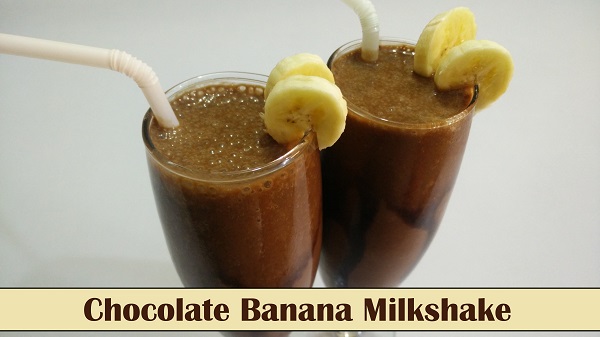 Chocolate Banana Milkshake Recipe
Chocolate & Bananas blended together perfectly to get a rich & tasty Chocolate Banana Milkshake. It is one of the easiest & healthiest Milkshake recipes that can be made in less time. Learn how to make this delicious milkshake in this video recipe.
Ingredients:
4 Bananas (preferably over-ripe)
1 cup Full-Fat Milk
1 tbsp. Cocoa Powder
2 tbsp. Powder Sugar
2 tbsp. Chocolate Syrup
Ice Cubes
Instructions:
Peel and cut bananas, and add into a blender.
Add Full-Fat Milk.
Add Cocoa Powder.
Add Powder Sugar.
Add 1 tbsp. Chocolate Syrup.
Blend until smooth.
Add Ice Cubes before you start blending.
Decorate serving glass with Chocolate Syrup.
Pour Milkshake in serving Glass.
Serve Chocolate Banana Milkshake with a straw.
You might also like Oreo Milkshake Recipe
Watch Chocolate Banana Milkshake Recipe Video