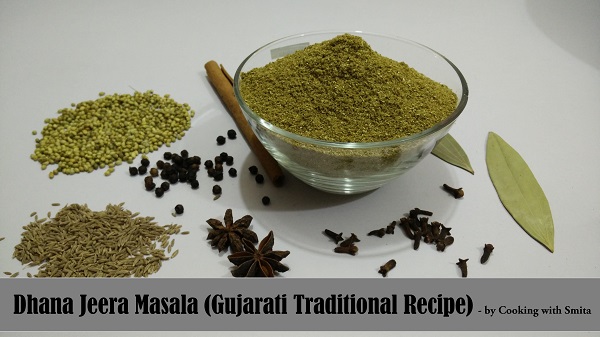 Dhana Jeera Masala | Coriander and Cumin Powder
Summer in India is also known as Masala Season. I prepare all the Masalas, used in making delicious dishes, at home. Today I am sharing the recipe of Dhana Jeera Masala, also known as Coriander and Cumin Powder. It gives a rich flavor to any Indian Dish. Unlike widely used 2:1 ratio of Dhana and Jeera, in this Gujarati Traditional Recipe, 5 other spices are used to make this Dhania Jeera Masala. Learn how to make this Masala at home and store for a year or even more without adding any preservatives.
Ingredients:
1kg Coriander Seeds (धनिया के बीज)
150g Cumin Seeds (जीरा)
50g Black Pepper (काली मिरी)
50g Cinnamon (दालचीनी)
20g Clove (लौंग)
50g Bay leaves (तेज पत्ता)
25g Star anise (चक्र फूल)
Instructions:
Sun dry all ingredients 5 to 6 hours a day for 3 days. (preferred method)
You can also roast each spice for 1 & ½ minute over the low flame.
Add all ingredients in a mixer jar and grind to a fine powder.
Sieve using a fine mesh strainer and grind again leftovers.
Repeat the process and grind remaining spices.
Dhana Jeera Masala is ready.
Store in an airtight container or jar.
You might also like Garam Masala Recipe
⇓ Watch Dhana Jeera Masala / Coriander and Cumin Powder Recipe video ⇓