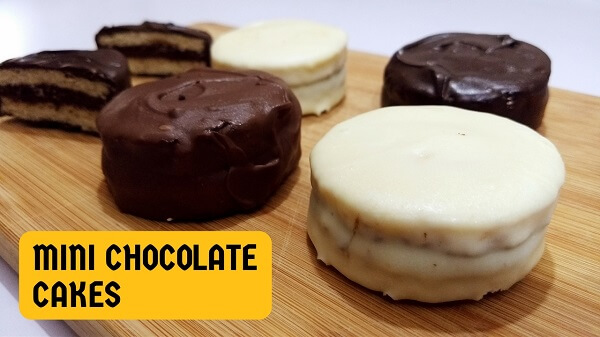 Eggless Mini Chocolate Cakes
Eggless Mini Chocolate Cakes – Spongy & delicious double layer Mini Sponge Cakes with added Chocolate ganache between the cake layers. A very easy to make and a perfect Eggless Cakes for the house party, family get-together or festivals like Christmas etc. Follow this step by step recipe on how to make Mini Chocolate Cakes at home. I've used Dark Chocolate and Milk chocolate for coating but you can use any chocolate compound of your choice.
Ingredients
– for 1 cake base
70g Powder Sugar
100g All Purpose Flour
2 & 1/2 tbsp. Oil/Butter
120ml Buttermilk
Half tsp. Baking Powder
1/4 tsp. Baking Soda
Half tsp. Vanilla Extract
– other ingredients
Melted Dark Chocolate
Melted Milk Chocolate
Melted White Chocolate
Instructions
First of all add dry ingredients (All Purpose Flour, Powder Sugar, Baking Powder, Baking Soda) in a large mixing bowl and mix well.
While mixing, pre-heat microwave at 180 degree Celsius.
Now add liquid ingredients in the dry mixture – Buttermilk, Oil and Vanilla Extract.
Mix well and prepare the batter.
Shift the batter into a baking tray.
Grease the baking tray with oil and place a sheet of butter paper and spread the batter on it.
Also, keep in mind the baked cake base should be of 1 to 1 & ½ cm thick, so select the size of baking tray accordingly.
Bake on convection mode at 180 degree Celsius for 8 – 10 minutes.
Similarly, prepare another cake base and let them cool down to room temperature.
Apply a layer of Chocolate Ganache on one cake base and place another cake base on top of it.
Cut mini cakes using a cookie cutter and place them on a tray.
Refrigerate for 30 minutes.
Melt chocolates (white, Milk or Dark), dip Mini Cakes in melted chocolate, place them on the cooling rack.
Let them cool down at room temperature for 30 minutes or refrigerate for 10 minutes.
Eggless Mini Chocolate Cakes are ready to serve.
You might also like No-Bake Oreo Double Chocolate Tart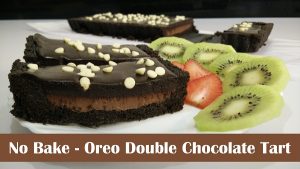 Watch Eggless Mini Chocolate Cakes Recipe video in Hindi