Farali Roti – Upvas Ki Roti
Rajgira, Shingada (Singhara aka Water Chestnut) & Sama Ke Chawal (Barnyard Millet) are some of the main ingredients for making food during Fasting Days like Shravan & Navratri. I haven't seen any Upvas Ki Roti / Farali Roti recipe on the web. After many trials, I found a perfect recipe of Farali Roti which you can eat during Shravan. Make sure you follow the exact measurement and recipe so that you get soft and Phulka Chapati like puffed Roti.
Ingredients:
1 cup Rajgira Atta (Rajgira & Sama ke Chawal in 4:1 ratio)
2 tbsp Shingada Atta / Singhara Atta (Water Chestnut Flour)
Salt to taste
Clarified Butter (Ghee)
Instructions:
Mix 1kg Rajgira & 250g Sama ke Chawal (Barnyard Millet) & grind to a fine flour just like Wheat Flour.
Strain the mixed flour & Shingada Flour using a fine sieve.
Add Salt, water as required and prepare the medium soft dough.
Add some Ghee and knead again.
Divide the dough into small equal size balls.
Keep some Rajgira Flour for dusting.
Take a dough ball, dust the flour and roll out the Rotis using the Rolling pin.
Cook Rotis on Tawa over medium to high flame.
Flip the Roti once half cooked on the bottom.
After some seconds you will notice small air pockets start to form.
Using tongs, take the Roti off the Tawa and cook directly on the flame.
In few seconds, Roti will puff up like a balloon.
Once puffed, remove from the flame immediately using the tongs.
Apply Ghee on the Roti.
Prepare all Farali Rotis in the same way.
Serve Upvas ki Rotis hot with Upvas ki Sabzi.
Note:
Do Not rest the Dough.
Serve Hot Rotis, after 1 – 2 hours Rotis will become hard.
You might also like Upvas Idli & Dhokla Recipe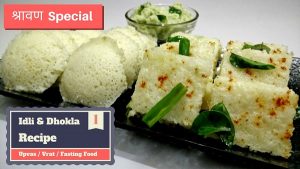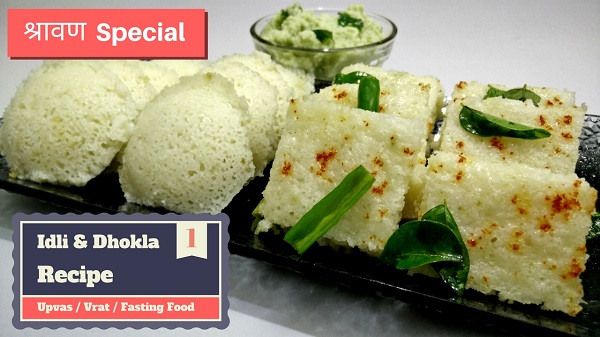 Watch Farali Roti – Upvas Ki Roti Recipe video in Hindi