Coconut Dink Dry Fruit Laddu
Coconut Dink Dry Fruit Laddu – A Winter Special Healthy recipe made with Coconut as the main ingredient with added Dink and Dry Fruits. This Laddus can be stored at room temperature for 15 – 20 days and up to 2 months in the refrigerator.
Ingredients
500g Dry Coconut
300g Jaggery
100g Dink (Gond)
100g Almonds
100g Dried Dates
100g Raisins
150g Clarified Butter
Instructions
First, remove the outer skin layer of the dried Coconut using a knife to remove the dust if any.
Now grate all dried coconuts using coconut scraper/grater.
Roughly chop almonds using a vegetable chopper, do not grind in a mixer.
Cut dried dates into small pieces.
Add Clarified butter in a pan, heat over medium-high flame.
When Ghee is hot, add dink and fry until they puff up and become crisp.
Remove fried dink in a plate and half crush with your hand or spoon.
Again, heat Ghee over a medium-high flame and add Jaggery.
Continuously stir until Jaggery melts completely.
Lower the flame and add grated Coconut, fried dink, dried dates, chopped almonds and raisins.
Mix well all the ingredients.
Switch off the gas and let it cool down for 10 minutes.
After 10 minutes, apply some Ghee to your palm and start making Laddus while the mixture is still hot.
Coconut Dink Dry Fruit Laddu is now ready to eat.
Store in containers and consume within 15 – 20 days or keep in the refrigerator for up to 2 months.
You might also like Aadu Pak / Ginger Barfi Recipe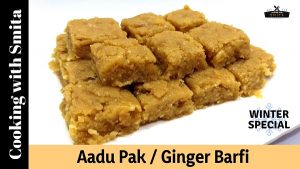 Watch Coconut Dink Dry Fruit Laddu Recipe video in Hindi