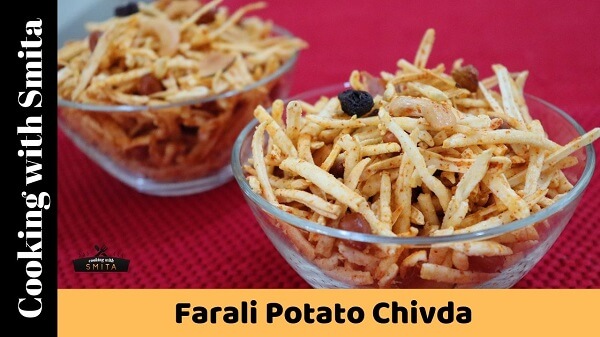 Farali Potato Chivda
Hey Foodies, here I am sharing another Fasting Food Recipe – Farali Potato Chivda, also known as  Aloo Lachha Namkeen. This Upvas Chivda is made from dried Potato Sticks which are now readily available at grocery stores. This Chivda is very easy to make, delicious & crispy snack for Fasting days like Shravan, Navratri, Ekadashi, Mahashivratri etc. Follow this step-by-step method to make Farali Potato Chivda at home.
Ingredients
2 cup Dried Potato Sticks / Aloo Lacha (without Salt)
½ cup Peanuts
½ cup Dry sliced Coconut
10 – 15 Cashew
1/4th cup Raisins
2 tbsp. Powder Sugar
1 tbsp. Red Chilli Powder
Rock Salt to taste
Oil for deep fry
Instructions
Heat oil over medium flame.
First, fry dried Potato sticks in hot oil. It'll take less than a minute & will become crispy and turn light golden brown.
Place fried Potato Sticks & all deep-fried ingredients over the paper napkin to drain excess oil.
Fry Peanuts for 1 – 2 minutes.
Fry Cashews for 30 seconds.
Fry sliced Coconut until they turn golden brown.
Finally, deep fry Raisins until they puff up.
Place all the fried ingredients in the same bowl.
Remove the paper napkin from the bowl and mix well all the ingredients.
Add Rock Salt, Powder Sugar & Red Chilli Powder, mix well.
Farali Potato Chivda is ready to serve.
Store in an airtight container and consume within 3 – 4 weeks.
You might also like Farali Sabudana Chivda
Watch Farali Potato Chivda Recipe Video