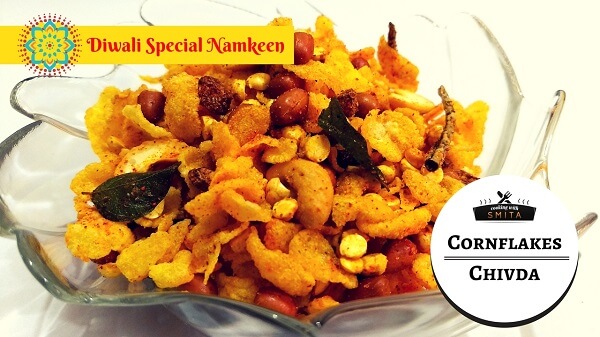 Cornflakes Chivda – Diwali Special Namkeen
Cornflakes Chivda Recipe – a deep fried sweet & spicy mixture consisting of Makai (Cornflakes), Peanuts and other ingredients. One of the favourite Diwali Special Namkeen Chivda made from easily available ingredients. I have used roasted Chana Dal (Roasted Bengal Gram), Cashews and Raisins. As per your liking, you can adjust the nuts quantity.
Follow this easy step by step recipe to prepare crispy Cornflakes Chivda at home during this Diwali Festival.
Ingredients:
2 cup Raw Cornflakes
1/2 cup roasted Chana Dal (Roasted Bengal Gram)
1/2 cup Peanuts
2 tbsp. Cashew
2 tbsp. Raisins
1 tbsp. Powder Sugar
2 tsp. Red Chilli Powder
2 Green Chillies sliced
Some Curry Leaves
Salt to taste
Oil for deep fry
Instructions:
To prepare the Masala for Chivda, add Red Chilli Powder, Salt and Powder Sugar in a bowl, mix well and keep aside.
Heat oil in a pan over medium-high flame for deep fry.
Fry the Cornflakes till they expand and become crisp.
Place the cornflakes on a plate lined with a paper napkin.
Sprinkle 1 tbsp. Chivda Masala and mix well, taking care not to brake Cornflakes.
Add peanuts in hot oil and fry for about 1 – 2 minutes until they become crunchy.
Remove from oil and place on the same plate above cornflakes.
Fry the roasted Chana Dal in same way and place in the same bowl.
Add another 1 tbsp. Chivda Masala, mix gently.
In the same hot oil, fry Cashews & Raisins separately and add in the same bowl.
Finally, deep fry sliced Green Chillies & Curry Leaves and add in the same bowl.
Remove paper napkin from the bowl carefully.
Sprinkle remaining Chivda Masala over the mixture, mix well.
Store in an air-tight container once the mixture is cooled.
Cornflakes Chivda is ready to serve.
You might also like Poha Chivda Recipe
Watch Cornflakes Chivda recipe video in Hindi