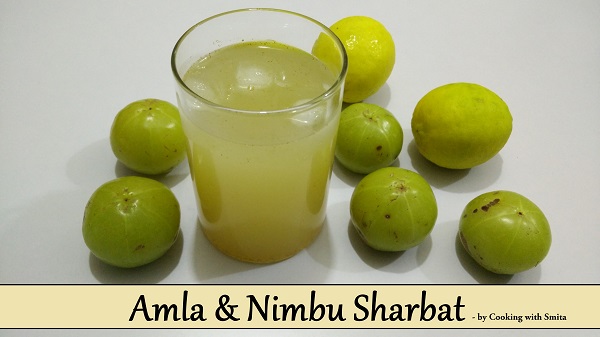 Amla Nimbu Sharbat | Gooseberry Lemon Syrup
Amla Nimbu Sharbat / Gooseberry Lemon Syrup – A perfect Healthy drink for hot afternoons made from Gooseberry and Lemon. Amla (Gooseberry) is rich in Iron and Vitamins and Lemon juice refreshes body and gives instant energy. It is very easy to make at home and there are no added preservatives.
Ingredients:
1kg Gooseberry (Amla)
10 Lemon
1kg Sugar
For 1 Glass Serving
Water & Syrup in 1:1 ratio
Cumin Powder
Rock Salt
Ice cubes
Instructions:
Add Sugar & Water in a pan and heat on medium flame till Sugar dissolves completely.
Stir continuously.
When Sugar is completely dissolved, lower the flame and boil Sugar Syrup for 5 minutes.
Switch off the gas and let it cool down to room temperature.
Cut Gooseberry in small pieces and grind in a mixer grinder.
Filter it using a cotton cloth and discard the pulp.
Squeeze all Lemons using a citrus squeezer.
Add Gooseberry Juice and Lemon Juice in Sugar Syrup and stir.
Filter the Syrup again using a strainer or cotton cloth.
Store in Glass Bottle, do NOT store in plastic or metal bottle.
It can be stored in the refrigerator for up to 8 – 10 weeks.
While serving Amla Nimbu Sharbat, take 125ml water and 125ml Syrup (1:1 ratio).
Add Ice cubes, Cumin Powder and Rock Salt as per taste.
Serve Chilled.
You might also like Virgin Mojito (Mocktail) Recipe
Watch Amla Nimbu Sharbat / Gooseberry Lemon Syrup Recipe video in Hindi