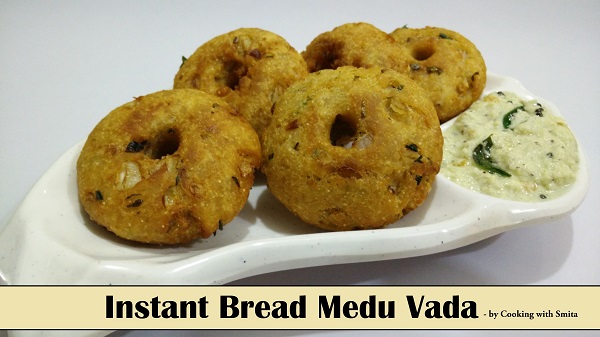 Instant Bread Medu Vada
Instant Bread Medu Vada is a very delicious Vada recipe made from Bread Slice, Rice Flour, Semolina & spices. Usually, Medu Vadas are made with Urad Dal batter which requires soaking, but this Bread Medu Vadas cane be made instantly in just 15 minutes. Learn how to make this Instant Medu Vada with this step-by-step guide.
Ingredients:
10 Bread Slice
5 tbsp. Rice Flour
1/2 cup Curd
1 medium size Onion finely chopped
2 tbsp Semolina (Suji)
finely chopped fresh Coriander
1 tsp. Ginger paste
finely chopped Curry Leaves
finely chopped Coconut
2 Green Chillies finely chopped
Cumin seeds
1/4 tsp Soda
Salt to taste
Instructions:
Crumble bread slices into small pieces, add Curd, Rice Flour, Semolina, Ginger paste and salt.
Grind all these ingredients in food processor / Mixer.
Pour the mixture into a bowl.
Add green Chillies, Coriander, coconut, Cumin seeds, Curry Leaves and Onion.
Add 2 tbsp. water, mix all the ingredients and prepare dough for Medu Vada.
Add 1 tsp. water in soda, mix well and add in dough.
Mix well and keep the dough aside for 5 minutes.
After 5 minutes, apply some oil in your palm and prepare medium size balls from the dough.
Gently press to flatten and create a hole in the centre like you prepare in Medu Vada
Deep fry MeduVada in oil over medium heat till crisp and golden brown on both the sides.
Serve hot Instant Bread Medu Vada with Coconut Chutney.
You might also like Instant Rava Dosa Recipe
Watch Instant Bread Medu Vada Recipe video in Hindi