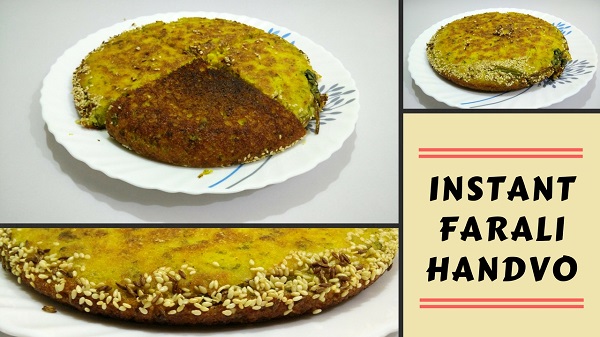 Instant Farali Handvo | Fasting Food Recipe
Handvo is a traditional Gujarati savoury cake that requires 8 – 10 hours of fermentation. Here I am sharing Instant Farali Handvo recipe, a quick and easy recipe you can prepare during fasting days like Shravan, Navratri, etc. You can make this Handvo with one of the three cooking methods; 1. baking in a Handvo Cooker 2. baking in Oven 3. using a pan. In this recipe, I have made it in a pan on Tawa which requires 15 – 20 minutes of cooking time. Moraiyo/Sama Ke Chawal and Sabudana used as essential ingredients which consumed during Vrat/Upvas.
The batter for Farali Handvo is different from Upvas Idli & Dhokla Recipe I have shared on my channel. You can also add vegetables like Bottle Gourd (Lauki) & Carrot (Gajar) in making this Handvo, but I have cooked it without any vegetables.
Ingredients:
1 cup Moraiyo/Sama Ke Chawal/Barnyard Millet
1/4 cup Sabudana/Tapioca Sago
1 & 1/2 to 2 cup Buttermilk
finely chopped fresh Coriander
3 tbsp. Oil
2 Green Chillies sliced
1 tsp. Ginger paste
2 Green Chillies finely chopped
1 tbsp. Sesame Seeds (Til)
1 tsp. Cumin Seeds (Jeera)
1/2 tsp. Turmeric Powder (Haldi)
1/2 tsp. Soda
some Curry Leaves
Salt to taste
Instructions:
First of all, coarsely grind Moraiyo & Sabudana in mixer grinder, do not make a fine powder.
Add the coarsely ground mixture in a large bowl, add Buttermilk as required to prepare the batter.
I have added 1 & ½ cup Buttermilk; consistency should be same as Idli batter.
If you are using Fresh Buttermilk, add ½ lemon juice as well.
Add spices to the batter – chopped Green Chillies, Ginger paste, Turmeric Powder, Salt and fresh chopped Coriander.
You can also add Carrot or Bottle Gourd at this stage.
Mix well all ingredients and let it rest for 15 minutes.
After 15 minutes, add Soda and mix well.
Heat 2 tbsp Oil in a pan over medium flame.
Add Cumin seeds, Sesame Seeds, Curry Leaves & Green Chillies in hot oil, let them crackle for about 30 seconds.
Pour the Handvo Batter into the pan.
Cover the pan with a lid and cook for 10 – 15 minutes over low flame until the bottom surface turns golden brown.
After 15 minutes, flip it gently, cover with a lid and cook for another 5 – 7 minutes over low flame until another side turns golden brown.
Switch off the gas.
Instant Farali Handvo is ready to serve.
Serve Farali Handvo with Upvas Chutney or Tea.
You might also like Farali Khandvi Rolls Recipe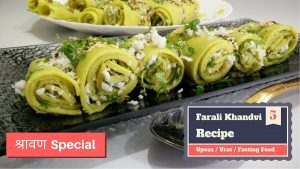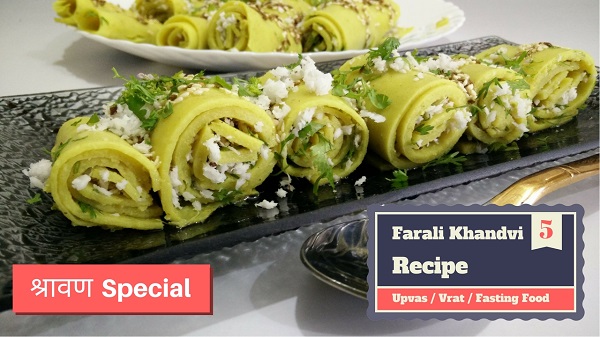 Watch Instant Farali Handvo Recipe video in Hindi