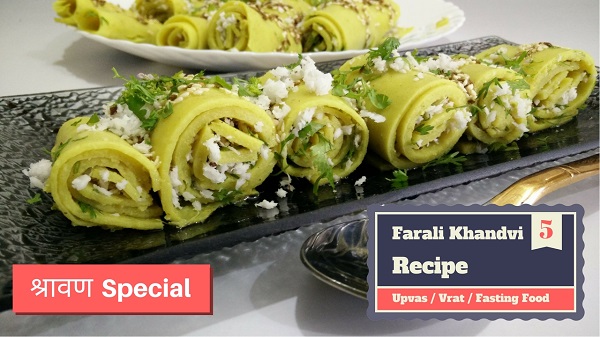 Farali Khandvi Rolls Recipe
Khandvi is a mouth watering traditional Gujarati snack made from Gram Flour. Here I am sharing Recipe of Farali Khandvi made from Shingada Flour & Arrowroot which you can eat during fasting days like holy month of Shravan, Navratri, etc. Follow this step-by-step recipe to make Farali Khandvi Rolls at home.
Ingredients:
1/2 cup Water Chestnut Flour (Shingada Flour)
1/2 cup Arrowroot Powder (Ara Lot)
Grated Fresh Coconut
3 cup Buttermilk (1 Cup Curd + 2 Cup Water)
1/4 tsp. Turmeric Powder
1 tsp. Cumin Seeds
1/4 tsp. Cumin Powder
1 tbsp. Sesame Seeds
2 tbsp. Oil
2 tbsp. Green Chilli & Ginger Paste
Chopped Fresh Coriander
Salt to taste
Instructions:
Take a non-stick pan, add Shingada Flour & Ara Lot.
Add Buttermilk and mix well all ingredients using a whisk, make sure there are no lumps.
Now add Cumin Powder, Turmeric Powder, Salt and Green Chilli & Ginger paste.
Mix well all ingredients.
Switch on the gas and heat the mixture on medium flame for 5 – 7 minutes, keep on stirring.
The batter will become thick while heating.
The final consistency of the Farali Khandvi Batter is shown in the video below.
Now switch off the gas and quickly pour the batter on the kitchen platform or a large plate.
Spread the batter evenly and thinly using a spatula.
You have to be quick as it will become difficult to spread the batter after cooling down.
Sprinkle grated coconut & fresh coriander over spread mixture and press gently.
Let it cool down for 5 – 7 minutes.
Cut into equal sized long strips using a knife.
Gently roll each strip from one side and keep Khandvi Rolls on a plate.
Heat oil in a tadka pan.
Crackle  Cumin Seeds & Sesame Seeds in hot oil.
Switch off the gas and spread the Tadka evenly on Khandvi rolls.
Serve Farali Khandvi with Farali Chutney.
You might also like Upvas ka Aloo Paratha Recipe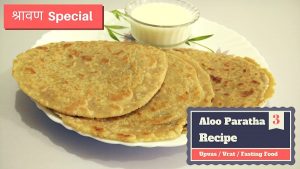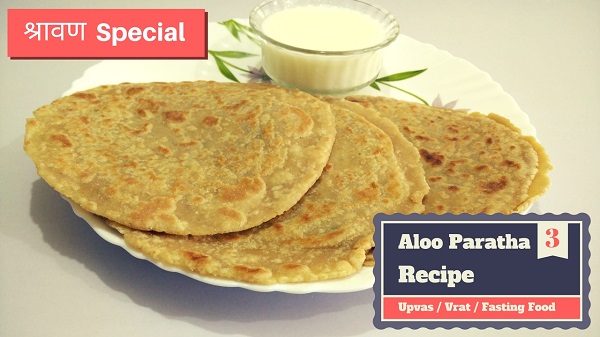 Watch Farali Khandvi Rolls Recipe video in Hindi