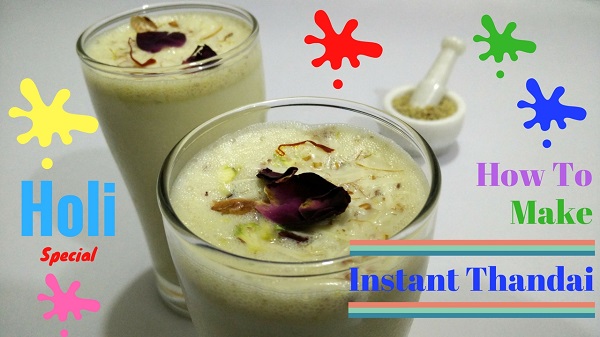 How to make Instant Thandai at Home
Thandai is traditionally associated with festivals like Mahashivratri and Holi. It is a perfect drink to keep your body cool during hot summer days as it can protect you from Sunstroke and nose bleeding. Readymade Thandai Powder which is easily available in the market contains preservatives, therefore I am sharing an easy to make and simple recipe of how to make Instant Thandai at home. You can use the same Thandai Masala Powder to make other recipes like Thandai Kulfi, Thandai Pudding and more.
Ingredients for Thandai Masala:
1/4 tsp Nutmeg Powder
1/2 tsp Black Pepper Powder
1 tbsp Fennel Seeds (Saunf) Powder (Not Roasted)
1 tsp Green Cardamom Powder
2 tbsp sun dried Rose Petals
1 tbsp Poppy Seeds
1/2 tsp Saffron threads
1/4 cup Almonds
1/4 cup Cashew
1/4 cup Pistachio
2 tbsp Watermelon Seeds
Ingredients for Thandai:
2 cup Milk (1 cup = 250ml)
2 tbsp Sugar
3 tbsp Thandai Masala
Sliced Dry Fruits & Rose Petals for Garnishing
Instructions:
Grind Nutmeg, Black Pepper, unroasted Fennel Seeds & Green Cardamom separately and make a fine powder. Filter using Tea Mesh strainer Colander.
Keep 1 cup milk in the freezer for 10 – 15 minutes.
Grind all ingredients together (see ingredients for Thandai Masala) and make a fine powder.
Heat 1 cup Milk in a pan over medium heat.
Add Sugar, mix well and heat till milk starts boiling.
Add 3 tbsp. Thandai Masala, mix well.
Add 1 & ½ tbsp. Thandai Masala for each cup (1 cup = 250ml).
Switch off the gas and let it cool down for 10 – 15 minutes.
After 10 – 15 minutes, add Ice cubes in mixer jar, add 1 cup boiled masala milk, 1 cup chilled milk which we kept in the freezer.
Grind in the mixer for just 30 seconds.
Serve chilled Instant Thandai, garnish with Dry Fruits & Rose Petals.
You might also like Milk Masala Powder Recipe
Watch Instant Thandai Masala Powder Recipe video in Hindi