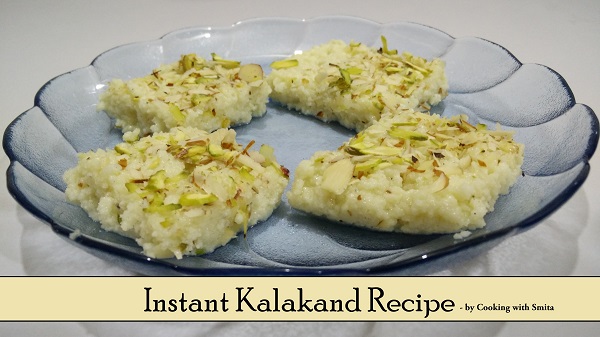 Instant Kalakand
Instant Kalakand Recipe – Kalakand is a very popular Indian sweet dish (Milk Fudge Cake) made out of solidified, sweetened milk and cottage cheese. In this recipe, we will make it instantly using Milk Powder, Fresh Cream and Sugar. Cooking time is just 15 minutes.
Ingredients:
300g Fresh Cottage Cheese / Paneer (crumbled)
50g Milk Powder
100g Sugar
100g Malai or Fresh Cream
2 tbsp Dy Fruits (for garnishing)
1/2 tsp Cardamom Powder (Elaichi Powder)
Instructions:
Heat a kadhai over the low flame.
Add crumbled Paneer, Fresh Cream, Sugar and Milk Powder.
Stir for 2 minutes, until sugar melts completely.
After all ingredients are mixed well, stir continuously and roast for another 4 – 5 minutes over high flame.
Lower the heat and add Cardamom Powder.
Mix well and roast for another 2 minutes over low flame until it becomes dry.
The mixture will become dry, switch off the gas.
Grease a plate/pan with clarified butter.
Pour the mixture into greased plate to set.
Spread evenly and garnish with dry fruits and let it cool down completely.
Cut into pieces and serve Instant Kalakand.
You might also like Gajar ka Halwa Recipe
Watch Instant Kalakand Recipe video in Hindi