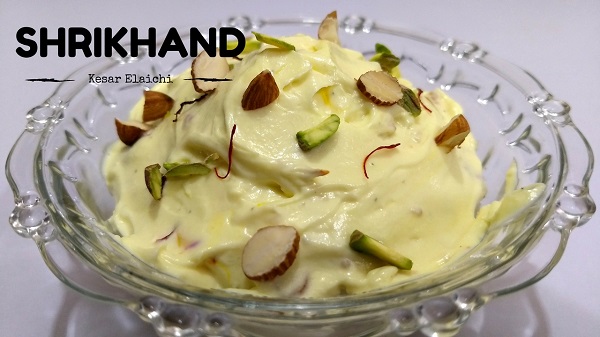 Kesar Elaichi Shrikhand Recipe
Today I am sharing a recipe for How to make Kesar Elaichi Shrikhand using fresh curd at home. It is very popular thick and creamy dessert in Gujarat & Maharashtra. Saffron and Cardamom are used to add flavour and colour to this Kesar Elaichi Shrikhand. Learn how to make this Srikhand with this step-by-step recipe guide and video tutorial.
Ingredients:
3 cup fresh Curd
3 tbsp. Powder Sugar
10 – 12 Saffron strings
1/4 tsp. Cardamom & Nutmeg Powder
1/2 tsp. Saffron & Cardamom Syrup
Dry Fruits
Instructions:
Take a deep and large bowl and place strainer on it.
Then line a muslin cloth/cheese cloth on the strainer.
Pour the fresh curd over the cloth, wrap the cloth from all the sides and tie it.
Hang curd for around 3 hours until water is almost drained off from the Curd.
After 3 hours, untie the cloth and transfer the hung curd in a bowl.
Add Powder Sugar, Cardamom & Nutmeg Powder, Saffron & Cardamom Syrup and Saffron strings.
Stir well using spoon till everything is incorporated well.
Now add Dry Fruits and mix again.
Keep in refrigerator for 2 hours before serving.
You might also like Royal Mango Falooda Recipe
Watch Kesar Elaichi Shrikhand Recipe video in Hindi