Authentic Gujarati Dal Recipe
Gujarati Dal is a delicious side dish best served with Rice or Roti. Dal Bhat (Dal Rice) is an essential part of Gujarati Thali. Here I am sharing the recipe of Khatti Meethi (Sweet & Sour) Dal which I learned from my mother. This everyday Gujarati Dal Recipe is made with Moong Dal (Mung Bean) & Toor Dal (Pigeon Pea). Learn how to make this tempting Dal at home with this step-by-step recipe guide.
Ingredients:
50g Yellow Moong dal (Mung Bean)
50g Toor Dal (Pigeon Pea)
1 tbsp Peanuts
80g Jaggery
1 tsp Kashmiri Red Chilli Powder
2 tsp Coriander Powder
1 tsp Red Chilli Powder
1/2 tsp Turmeric Powder
Salt to taste
2 tbsp Lemon Juice
1 tbsp Oil
1 tsp Mustard Seeds
1 tsp Cumin Seeds
Cinnamon & Clove
2 Dry Red Chilli
Some Curry Leaves
Fresh Coriander
Instructions:
Mix Moong Dal & Toor Dal, Rinse the dal thoroughly under water.
Add water and pressure cook for five whistles or cooked completely.
Also, cook Peanuts in a separate bowl with Dal.
Mash the dal with a whisk or hand blender until smooth.
Heat cooked Dal in a pan over low flame.
Add spices – Red Chilli Powder, Kashmiri Chilli Powder, Dhana Jeera Powder, Turmeric Powder and salt.
Mix well all ingredients.
Add cooked Peanuts and cook dal until it starts boiling.
Add ½ cup water.
Now add Jaggery and Lemon Juice, mix well.
Cook for another 5 minutes until Jaggery melts completely.
Switch off the gas after 5 minutes, add fresh coriander and keep aside. Do not stir.
For Tadka, heat oil in a Tadka Pan.
Crackle Mustard Seeds, add Cumin Seeds, Cinamon, Clove, Curry Leaves and dry Red Chillies.
Fry for 5 – 10 seconds.
Switch off the gas and pour this tempering on Dal, mix well.
Gujarati Sweet & Sour Dal is ready, serve with Roti or Steamed Rice.
You might also like Traditional Gujarati Dal Dhokli Recipe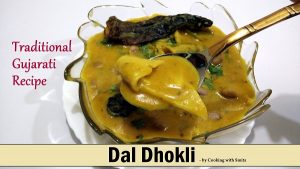 Watch Authentic Gujarati Dal Recipe video in Hindi