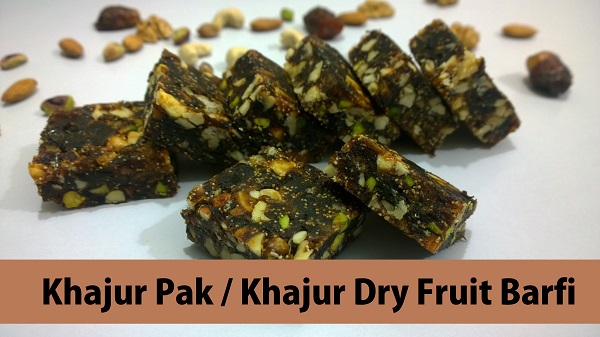 Khajur Pak | Dates & Dry Fruit Barfi
Khajur Pak / Dates & Dry Fruit Barfi, a very healthy Winter Special Recipe is made from Khajur (dates) & Dry Fruits. Dates and dry fruits, both delicious and nutritious to eat, they are rich in protein and iron. It can easily be made and it is a Sugar-Free recipe. Read full recipe below to make Khajur Pak at home.
Ingredients:
500g Black Dates seedless (Black Khajur)
50g Walnut (Akhrot)
50g Cashew
50g Almonds
25g Dry Grated Coconut (optional for garnishing)
50g Pistachio
20g Poppy Seeds (Khas Khas)
20g Edible Gum (Gondh/Dink)
2-3 tbsp Clarified Butter (Ghee)
Instructions:
Cut all Dry Fruits in small pieces.
Saute all Dry Fruits in Clarified Butter over the low flame.
Saute Almonds for 2 minutes, Pistachio for 2 minutes, Walnuts for 1 minute and Cashew for 1 minute.
Add 2 tsp Clarified butter in the same pan and fry Edible Gum until they puff up and turn slightly Golden Brown.
Saute Poppy Seeds in the same pan for about 30 seconds.
Add Dates and mash gently.
Add all Dry Fruits & fried Edible Gum and mix well.
Switch off the gas and add this mixture in a tray to set.
Cover all sides of the tray with aluminium foil before adding mixture.
Press and spread the mixture evenly in the tray.
Cover with aluminium foil and keep in the refrigerator for 2 hours.
Remove from tray and make desired size pieces.
Enjoy Khajur Pak / Dates & Dry Fruit Barfi.
You might also like Adadiya Pak Recipe
Watch Khajur Pak / Dates & Dry Fruit Barfi Recipe video in Hindi