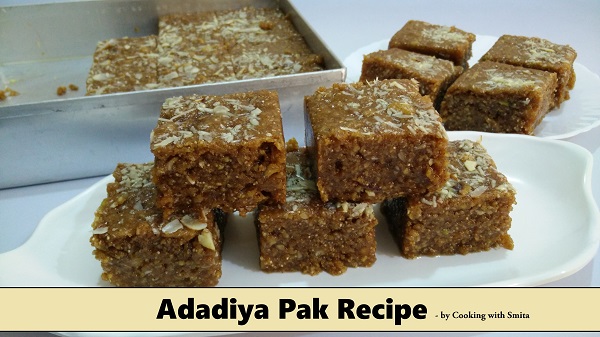 Adadiya Pak
Adadiya Pak is one of the famous Traditional Gujarati Kathiyawadi Healthy Recipe made especially during winter season. It contains ingredients which help to keep the body warm during winter days.
Ingredients:
150g Black Gram Flour (Urad Dal)
150g Gram Flour (Chana Dal)
100g Adadiya Pak Masala
100g Mix Dryfruit (sliced)
100g Edible Gum (Gond / Dink)
25g Poppy Seeds (Khus Khus)
3 tbsp Milk
250g Thickened Milk (Mawa)
500g Sugar
500g Clarified Butter (Ghee)
Ingredients for Adadiya Pak Masala:
25g Dry Ginger Powder (Sonth Powder)
25g Peepramul Powder (Ganthoda)
10g Mesua Ferrea (Nagkesar)
10g Saffron (Kesar)
20g White Musli Powder
20g Black Musli Powder
5g Cinnamon (Dalchini)
5g Clove (Loung)
5g Black Pepper
10g Cardamom (Elaichi)
5g Nutmeg (Jaiphal)
Grind all ingredients together and make a fine powder.
Instructions:
Take a large bowl and add Gram Flour & Black Gram Flour.
Add Milk & 3 tbsp Clarified butter, mix well all ingredients.
Gently press and strain the flour using sieve with big holes and keep it aside.
Heat 5 tbsp Clarified Butter in a kadhai over medium flame.
Fry Edible Gum and crush lightly, do not make a fine powder.
Take another kadhai and heat 2 tbsp Clarified butter over low flame.
Add Mawa, stir continuously and cook for 4 – 5 minutes.
Now take a large kadhai and add remaining Clarified butter and heat.
Add strained flour in it, stir continuously and cook for 10 – 12 minutes over low flame.
After 10 – 12 minutes switch off the gas and add all ingredients – cooked Mawa, fried Edible Gum, Poppy Seeds, mix dry fruits and Adadiya Pak Masala.
Mix well all ingredients and keep it aside.
In a medium saucepan add Sugar and water, stir and boil until sugar is completely dissolved and make Sugar Syrup of 1 & ½ thread consistency.
Add Sugar syrup to the mixture and stir for 2 minutes.
Grease the tin with clarified butter and add Adadiya Pak mixture and let it set for 2 – 3 hours.
After 3 hours (when it is completely set) cut it into desired size pieces and serve.
Store in air-tight container and consume within 2 – 3 weeks, you can store it in the refrigerator for 4 – 6 weeks.
Watch Adadiya Pak Recipe video in Hindi