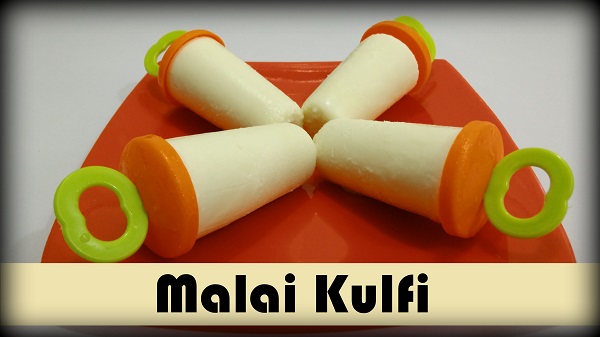 Malai Kulfi Recipe
Malai Kulfi – an Indian style ice cream made from Milk, Condensed Milk & Mawa. Malai Kulfi is one of the perfect desserts to serve at any gathering because it is unconditionally loved across generations. Instead of buying ready-made Kulfi from the market which has artificial flavouring agent, follow this simple recipe and make Malai Kulfi at home.
Ingredients:
500 ml (2 cups) full-fat Milk
50 g (1/2 cup) Grated Mawa / Khoya (dried whole milk/thickened milk)
100 ml Condensed Milk
100 g Milk Powder
⇒ Homemade Instant Mawa/Khoya Recipe
⇒ Homemade Condensed Milk Recipe
Instructions:
Heat Milk in a pan till it starts boiling.
When Milk starts boiling, lower the flame and add Condensed Milk, mix well.
Stir and add Milk Powder, make sure there are no lumps.
Let the Milk simmer on low flame for 5 minutes, stir continuously while scraping the sides in between.
After 5 minutes, boil Milk on medium to high flame for more 3 minutes, don't forget to stir continuously.
Switch off the gas.
Let the mixture cool down for 10 minutes.
After 10 minutes, add Mawa and stir.
Allow the mixture to cool down completely.
Once cooled, pour the mixture into moulds.
Keep in freezer for 8 – 10 hours until firm.
Unmould Kulfi and serve immediately.
You might also like Guilt-Free Fruit Ice Cream Recipe
⇓ Watch Malai Kulfi Recipe video in Hindi ⇓