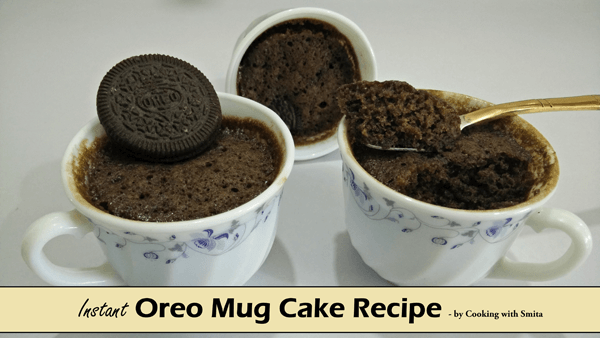 Instant Oreo Mug Cake Recipe
Mug cakes are great when you want to make instant cake and Oreo Mug Cake recipe is perfect when you have very little time. This Instant Oreo Mug Cake is fluffy, sweet and it gets ready in just 2 minutes.
Ingredients:
4 tbsp All Purpose Flour
5 tbsp Powder Sugar
2 tbsp Cocoa Powder
2 tbsp Melted Butter
1/4 cup Milk
3 Oreo Cookies
1/4 tsp Vanilla Essence Pinch of Baking Soda
1/2 tsp Baking Powder
Instructions:
Add dry ingredients in a bowl – Powder Sugar, All-purpose flour, Cocoa powder, Baking Powder and Baking Soda.
Mix well so that all ingredients are incorporated well.
Now add liquid ingredients in dry mixture – Melted Butter, Milk and Vanilla Essence.
Mix well.
Add pieces of Oreo Cookies and mix well.
Shift the batter in Microwave-safe Mug.
Bake in microwave for 90 Seconds.
Let it cool down for 1 minute and serve.
Watch Oreo Mug Cake Recipe video in Hindi