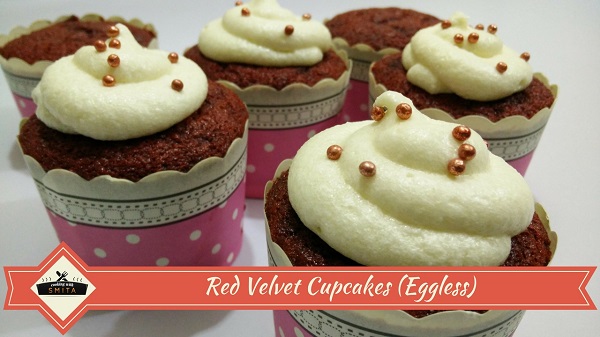 Red Velvet Cupcakes with Cream Cheese Frosting
Red Velvet Cupcakes with Cream Cheese Frosting is commonly served on Christmas or Valentine's Day. Learn how to make easy, moist and fluffy homemade cupcakes and how to make Cream Cheese Frosting.
Ingredients:
150g All Purpose Flour (Maida)
160g Powder Sugar
1 cup Buttermilk
60g Butter
2 tbsp. Cocoa Powder
1 tsp. Baking Powder
1/2 tsp. Baking Soda
1 tsp Vanilla Extract
Red Food Colour
Frosting:
60g Cream Cheese
40g Butter
225g Powder Sugar
1 tsp. Vanilla Extract
Instructions:
Beat Powder Sugar and Butter in a large bowl until well incorporated – until light and fluffy.
Add 1 tsp. Vanilla Extract and beat again.
Sift and add dry ingredients – All Purpose Flour, Cocoa Powder, Baking Soda and Baking Powder.
Lightly mix all ingredients.
Add Buttermilk, mix well and prepare Batter.
Preheat microwave at 180 degree Celsius for 10 minutes.
Add food colour and beat until you reach the desired colour.
Shift the batter into cupcake moulds.
Bake for 20 – 25 minutes.
Transfer cupcakes to wire rack to cool completely.
Beat Butter and Cream Cheese in a bowl using a hand blender on medium speed until smooth.
Add 1 tsp. Vanilla Extract and beat again.
Add Powder Sugar and beat on high speed for about 1 – 2 minute to prepare Cream Cheese frosting.
Add frosting in piping bag and keep in the refrigerator for half an hour.
Apply frosting on Red Velvet Cupcakes before serving.
You might also like Eggless Instant Brownie Recipe
Watch Red Velvet Cupcake with Cream Cheese Frosting Recipe video in Hindi