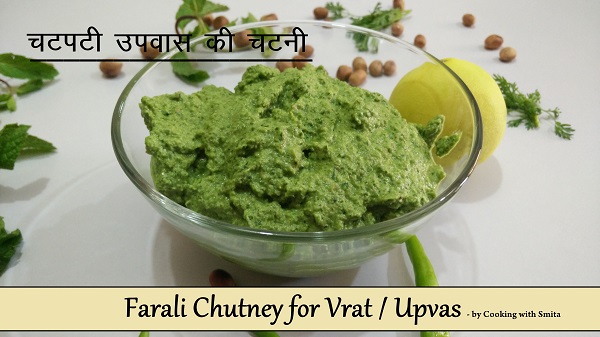 Upvas Chutney Recipe for Vrat / Fasting Days
Here is one more Vrat / Upvas Chutney recipe you can eat during Fasting Days like Shravan, Navratri, Ekadashi or Janmashtami. A very simple & quick Farali Chutney made of Fresh Coriander leaves, Mint leaves and Green Chillies. Added Sugar & Lemon Juice make it very tasty and delicious that goes well with Sabudana Vada, Upvas Idli, Upvas Dhokla, Upvas Dosa and more. Check All these Upvas / Fasting Food Recipes on my YouTube channel.
Ingredients:
1 cup fresh Coriander
1 cup fresh Mint leaves
7 – 8 Green Chillies
1 Lemon Juice
1/2 cup roasted Peanuts
2 – 3 tsp Sugar
Salt to taste
Instructions:
Rinse the Coriander Leaves & Mint Leaves in water.
Take all the ingredients in a mixer jar – Coriander leaves, Mint leaves, Green Chillies, Lemon Juice, Peanuts, Sugar & Salt.
Add 3 – 4 tbsp. Water and grind to a smooth chutney.
Remove the chutney in a bowl.
Serve Upvas Chutney with Fasting Food recipes like Sabudana Vada, Upvas Dhokla & Idli or Dosa.
This chutney can be stored in air-tight container in the refrigerator for 4 – 5 days.
You might also like Farali Frankie Recipe
Watch Upvas Chutney Recipe video in Hindi