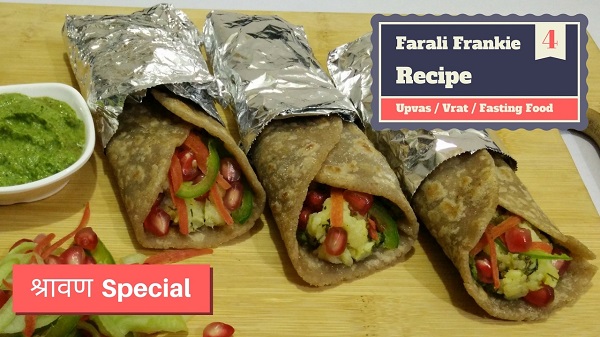 Farali Frankie | Upvas – Vrat – Fasting Recipe
Farali Frankie – I am sharing another unique Franky recipe that you can eat during Upvas / Vrat / Fasting days. Made from 3 flours, boiled Potatoes and spices, it's a very delicious dish made from very less Oil. I have used Farali Chutney; I will upload the recipe for Upvas Chutney soon.
Ingredients:
Three medium sizes boiled mashed Potato
1/2 cup Amaranth Flour (Rajgira Flour)
1/2 cup Water Chestnut Flour (Shingada Flour)
1/2 cup Arrowroot Powder (Ara Lot / Arorot)
1/2 Lemon Juice
chopped Fresh Coriander
Farali Chutney (Recipe coming soon)
Clarified Butter (Ghee)
1 tbsp Green Chilli & Ginger Paste
1 tsp Cumin seeds
1 tbsp Oil
1 tsp Sandwich Masala
Salt to taste
Shredded Vegetables & Pomegranate for Salad
Instructions:
Heat Oil in a pan over medium flame.
Add Cumin seeds, Green Chilli & Ginger paste in oil, sauté for 1 minute.
After 1 minute, add boiled, mashed Potatoes & fresh chopped Coriander, mix well.
Add Salt and Lemon Juice, mix well.
Lightly mash the mixture in the pan.
Switch off the gas and keep it aside.
Take 1 cup water in a heavy-bottom Pan, add Water Chestnut Flour (Shingada Flour), Arrowroot Powder (Ara Lot / Arorot) and 2 tbsp. Amaranth (Rajgira) flour.
Mix well and make sure there are no lumps.
Add Salt and cook this mixture over the low flame.
Stir continuously and cook for 5 – 7 minutes until it becomes thick.
Switch off the gas and add remaining Amaranth Flour, mix well and prepare the dough.
You can add more Chestnut Flour & Arrowroot flour in equal portion if the dough is sticky.
After mixing, keep it aside and let it cool down to room temperature.
After the dough is completely cooled down, add 2 tsp Clarified butter and knead well.
Prepare medium size balls from the dough.
Roll Frankie Rotis from dough balls and half-cook them.
Half-cooked Frankie Rotis can be prepared in advance & store them in an air-tight container for 4 – 5 hours.
Switch on the gas and heat Tawa on high flame.
Spread some Clarified butter on Tawa and cook half-cooked Frankie Rotis on high flame.
Cook from both the sides till you see the light brown spots on Frankie roti.
Place cooked Frankie roti on clean, dry surface.
Evenly spread Farali Chutney on the roti.
Add Potato stuffing, shredded vegetables, Pomegranate seeds and sprinkle some Sandwich Masala.
Fold the edges and wrap in an Aluminium foil / Tissue Paper.
Repeat the process with remaining ingredients and serve Farali Frankie.
You might also like Thepla Frankie Recipe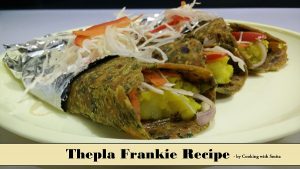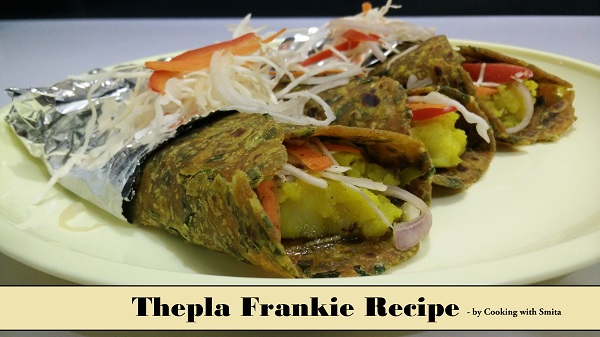 Watch Farali Frankie Recipe video in Hindi