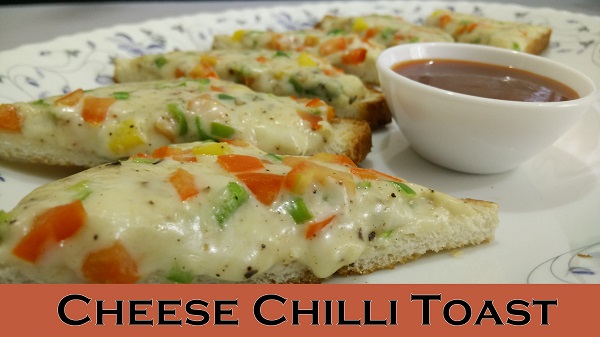 Cheese Chilli Toast
Cheese Chilli Toast is easy to prepare quick breakfast/snack recipe. It is very delicious and you can change ingredients as per your taste. It is slightly different from Bread Pizza as it is topped with Green Chilli, Capsicum, Tomato and Cheese.
Ingredients (Measurement as per your taste):
Grated Cheese – mozzarella, cheddar or regular cheese
Tomato chopped (seeds removed)
Milk
Black Pepper Powder
Oregano
Salt to taste
Green Chillies finely chopped
Chopped Capsicum (Red, Green, Yellow)
Bread slices (whole wheat or white bread)
Instructions:
Take Cheese in a large bowl, add Tomato, Green Chillies, Capsicum, Oregano, Black Pepper Powder and a pinch of Salt.
Mix well all ingredients using spoon or fork.
Add ½ tbsp. Milk and mix again.
Half bake bread slices
Spread the cheese mixture on bread slices.
Bake in microwave till cheese melts and bread slice becomes crispy. You can also use pizza oven or you can bake it on Tawa.
Cut into desired pieces and serve hot with Sauce.
You might also like Pizza Sandwich Recipe
Watch Cheese Chilli Toast Recipe video in Hindi