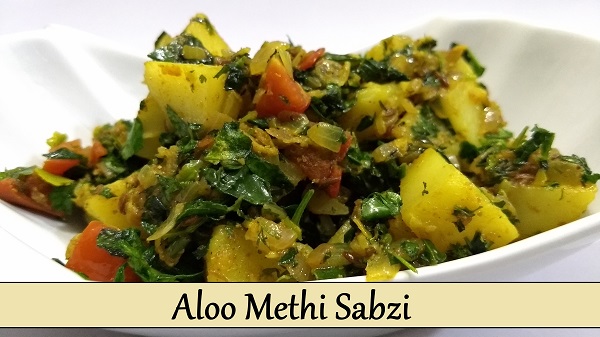 Aloo Methi Sabzi / Fenugreek Potato
Aloo Methi Sabzi / Fenugreek Potato is a quick and nutritious dish made with Fresh Fenugreek & Potato with added spices. It can be made of two types, with gravy and without gravy. Here I am sharing my recipe of Aloo Methi Sabzi without gravy. Cooking the Fenugreek leaves exhibit strongly aromatic and pungent flavour making a delicious dish that goes well with Roti, Naan or Phulka. Learn how to make this quick & easy Aloo Methi Sabzi that gets ready in just 10 minutes.
Ingredients:
2 cup Fresh Fenugreek Leaves (Methi)
2 medium size Boiled Potato (Aloo)
1 Onion chopped
Fresh Coriander leaves chopped (optional)
1/2 Tomato chopped
1 tbsp. grated Garlic
2 Green Chillies finely chopped
1/2 tsp. Ginger paste
1 tsp. Cumin seeds
2 tsp. Coriander-Cumin powder (Dhana Jeera)
1/2 tsp. Turmeric Powder
2 tbsp. Oil
Salt to taste
Instructions:
Wash Fenugreek Leaves and roughly chop.
Heat Oil in a pan over medium flame.
Add Cumin seeds in warm Oil and sauté for about 1 minute.
Now add Ginger, Green Chillies and Garlic, sauté for another 1 minute.
Add Onion, mix well and sauté for 2 minutes more.
After 2 minutes, add Tomato and all spices – Dhana Jeera Powder, Turmeric Powder and Salt.
Mix well all ingredients.
Add Potatoes, mix well, cover with a lid and cook for 2 minutes.
After 2 minutes, add fresh Coriander and Fenugreek Leaves.
Mix well and cook for 1 minute.
Do not cover with a lid after adding Fenugreek Leaves.
After 1 minute, switch off the gas and serve Fenugreek Potato Sabzi.
You can add 1 tsp. Sugar if it tastes bitter.
Serve Aloo Methi Sabzi with Roti, Naan or Phulka.
You might also like Spicy Potato Curry / Aloo Sabzi Recipe
Watch Aloo Methi Sabzi Recipe video in Hindi