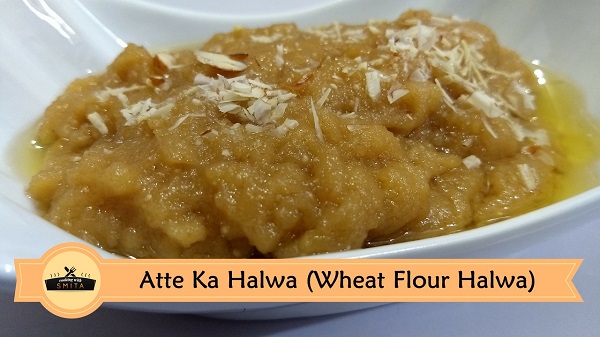 Atte Ka Halwa (Wheat Flour Halwa)
Today I am sharing a recipe of healthy and delicious sweet dessert – Atte ka Halwa (Wheat Flour Halwa) also known as Atte ka Sheera. It is a popular Halwa recipe made from very few ingredients. Kada Prasad offered to devotees at all Gurudwaras or Temples is made with Sugar. Instead of Sugar, I have added Jaggery to make it a healthy dessert. This Nutritious and delicious Halwa can be made instantly at home. Learn how to make Atta ka Halwa with this step-by-step guide.
Ingredients:
1 cup Clarified Butter (Ghee)
1 cup Wheat Flour
1 cup Jaggery (Gur)
2 & 1/2 cup Water
2 tbsp. coarsely Ground Wheat Flour (Gehu ka Jaada Atta)
Dry Fruits for garnishing
Instructions:
Heat water in a pan over medium flame.
When water is slightly warm, add Jaggery.
Stir continuously till Jaggery melts completely.
Stop stirring and heat till it starts boiling, switch off the gas.
Heat clarified butter in a kadhai over medium flame.
Add Wheat Flour and coarsely ground Wheat flour.
Keep stirring and roast the flour till the colour changes of the flour and you get the aroma of roasted wheat flour. It will take about 8 – 10 minutes.
Add Jaggery syrup while stirring continuously.
Cook for about 2 minutes, you can add Cardamom Powder at this stage (optional).
The Halwa will absorb the water and continue to thicken quickly.
Keep stirring and cooking till it starts to leave the sides of the pan.
When it's thick like Suji Halwa, switch off the gas.
Garnish with Dry Fruits.
Serve Atte ka Halwa hot or warm.
You might also like Gajar ka Halwa Recipe
Watch Atte ka Halwa (Wheat Flour Halwa) Recipe video in Hindi