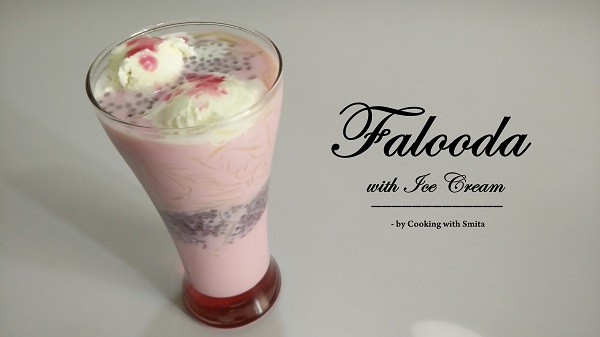 Falooda with Ice Cream
Falooda Recipe – very delicious and yummy beverage cum dessert made with Milk, Rose Syrup and other ingredients mentioned below. Read this simple recipe of How to make this refreshing summer drink at home?
Ingredients:
Milk (chilled)
Rose Syrup
Sabja seeds (Basil Seeds)
Faluda Sev
Jelly
Vanilla Ice Cream
Instructions:
Cook Falooda Sev in boiling water for 5 minutes and rinse in fresh water.
Drain and keep them aside.
Soak Sabja seeds in water for about 20 – 30 minutes.
Once they swell, drain and keep aside.
Add Rose Syrup (depending on your taste) in Milk and mix well.
Add 1 tbsp. Rose Syrup in serving glass.
Now add Sabja Seeds and cooked Falooda Sev.
Fill the glass with milk.
Add Jelly and a scoop of Vanilla Ice Cream.
Add 3 – 4 drops of Rose Syrup.
Serve immediately.
You might also like Blue Lagoon Mocktail Recipe
Watch Falooda with Ice Cream Recipe video