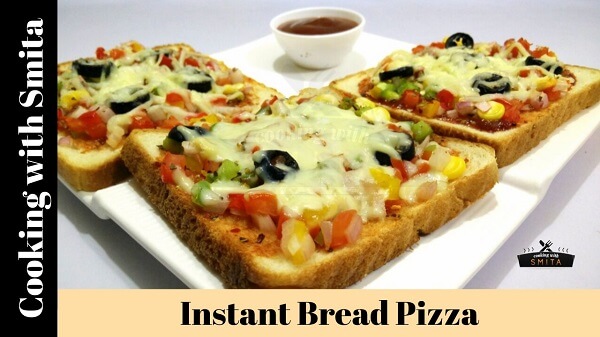 Bread Pizza Recipe
Bread Pizzas are delicious pizzas made with bread slices as a pizza base and topped with a layer of Vegetables & Cheese. Bread Pizza is quick and easy to make recipe. It can be made in Microwave or on Tawa.
Ingredients:
Bread Slice
Finely chopped Vegetables of your choice
 – Tomato
 – Onion
 – Capsicum
 – Sweet Corn
Sliced Black Olives
1 tsp Oregano
1 tsp Pizza Mix
1 tsp Chilli Flakes
4 tbsp Tomato Sauce
Mozzarella Cheese / Processed Cheese
Instructions:
To make Pizza Sauce, add Chilli Flakes, Oregano & Pizza Mix in Tomato Sauce and mix well.
Add all chopped vegetables in a large bowl – Capsicum, Sweet Corn, Onion & Tomato – mix well.
Spread Pizza sauce on bread slices.
Add toppings ( a mixture of chopped vegetables) on bread slice.
Add some Olives.
Sprinkle some Pizza Mix.
Add grated Cheese.
Bake in microwave till cheese melts. It will take about 8 – 10 minutes.
To make Bread Pizza on Gas, apply some butter on Tawa and cook over the low flame with lid on till cheese melts. It will take about 8 – 10 minutes.
Serve Hot.
You might also like Cheesy Garlic Bread Recipe
Watch Bread Pizza Video Recipe in Hindi