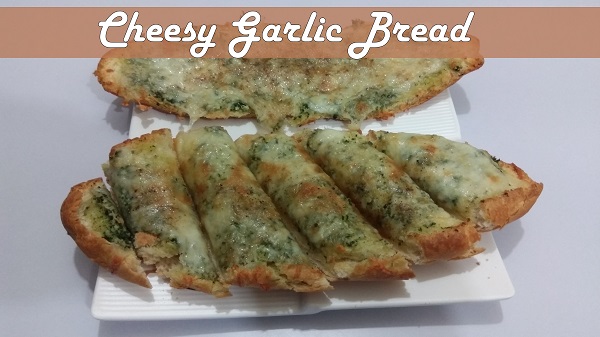 Cheesy Garlic Bread
Make Cheesy Garlic Bread if you want a quick breakfast. You can also make this garlic bread and serve with any soup for lunch or dinner. These can also be served as a starter snack for the get-together or parties. This recipe is super easy to make with just a few ingredients!
Ingredients:
2 Cup Shredded Mozzarella Cheese
Some Fresh chopped Parsley
1/2 cup Olive Oil / Butter
1/4 cup Garlic
1 tsp Black Pepper Powder
2 Long Bread (French / Italian Bread)
Instructions:
Add Garlic, Parsley and Olive Oil in the chopper, grind and make a thick paste (garlic oil).
You can also use butter instead of Olive oil.
Slice bread in half lengthwise and keep it on aluminium foil.
Spread Garlic Oil evenly over entire surface of both bread halves.
Preheat microwave at 200 degree Celsius.
Keep one slice on another (as it was before cutting) and cover with aluminium foil, crimp edges together and roll ends of foil up.
Bake for 10 minutes.
Remove from oven, open foil and evenly spread cheese on both slices.
Sprinkle some black pepper powder.
Bake uncovered again for 10 – 12 minutes.
Cut into slices and serve as a starter or as a snack.
You might also like Cheese Chilli Toast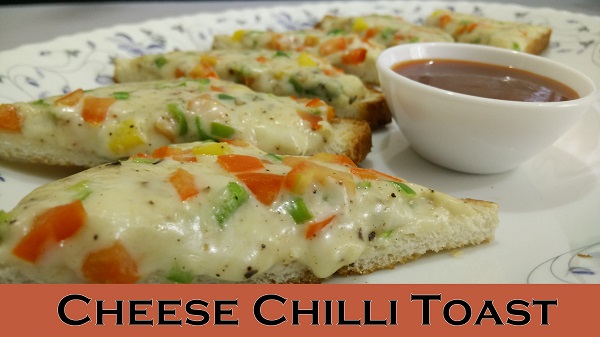 Watch Cheesy Garlic Bread Recipe video in Hindi