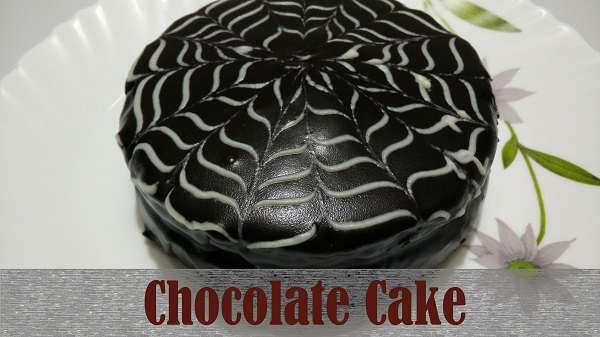 Chocolate Cake
Moist & delicious Chocolate Cake for Christmas or for any Celebration. This is the Chocolate Cake Recipe you've been waiting for. Follow this easy recipe to make delicious Cake from Cocoa Powder and All Purpose flour with layers of Ganache.
Ingredients:
10 tbsp Powder Sugar
8 tbsp All Purpose flour
4 tbsp Cocoa Powder
6 tbsp Milk
6 tbsp Vegetable Oil
2 tsp Baking Powder
1 Egg
Instructions:
In a bowl, add All Purpose Flour, Cocoa Powder and Baking Powder. Mix well all ingredients to make Cake Flour.
Preheat microwave at 180 degree Celsius.
Take a Large bowl and break an egg into it, add Milk and mix well using the whisk.
Add Powder Sugar and mix well.
Add Oil and again mix well.
After all the ingredients are mixed well, add Cake Flour gradually and mix well to prepare the batter.
Grease cake tin with butter and dust with flour before shifting batter. Put butter paper at bottom of pan so that it can be removed easily after baking.
Shift batter in baking tin and bake for 25 – 35 minutes at 180 degree Celsius.
After baking let it cool down to room temperature.
Remove cake from baking tin and cut it in half horizontally. Place it on cooling rack.
Keep butter paper at the bottom surface, above that keep cooling rack with cake.
Add 2 – 3 spoons dark Chocolate Ganache over bottom half of cake and spread evenly.
Place top layer of cake upside down over bottom half and press gently.
Pour Ganache evenly over the top of the cake and cover the entire cake with a layer of Ganache.
Keep in refrigerator for 15 minutes.
Remove from refrigerator and apply the second layer of Ganache.
Take White Chocolate Ganache in a cone and create spider wave design on the cake. (watch video below for tutorial)
Moist & delicious Chocolate Cake is ready.
You might also like Tutti Frutti Cake Recipe
Watch Chocolate Cake Recipe video in Hindi