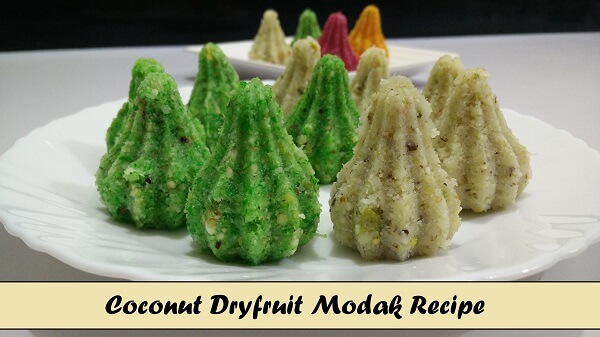 Coconut Dry Fruit Modak
Today I am sharing a recipe of Modak for Nivedya during Ganesh Chaturthi Festival. Coconut Dry fruit Modak made from Coconut & dry Fruits with Condensed Milk. You can also use flavoured desiccated Coconut to make it more colourful.
Ingredients:
3 cup Desiccated Coconut (Plain or Flavoured)
1 cup Mix Dry fruits (Almond, Cashew, Pistachio)
1 cup Condensed Milk
Pinch of Saffron
1 tsp. Cardamom Powder
1/4 tsp. Nutmeg Powder
Instructions:
Coarsely Grind Dry fruits (Almond, Cashew & Pistachio) in the mixer with Nutmeg Powder, Cardamom Powder & Saffron.
Do not make a fine powder.
Divide desiccated coconut into 2 parts in separate bowls.
Add half mixture of dry fruits in one bowl and half in 2nd bowl, mix well
Add ½ cup Condensed Milk in each bowl and mix well.
Add a small portion of the mixture and add in Modak mould.
Using your fingers spread the mixture on the walls of the mould.
Fill the mould and level the mixture with your fingers, carefully open the mould.
Repeat the process to prepare Modaks from rest of the dough.
Keep Coconut Dry Fruit Modak in the refrigerator and consume within 1 week.
You might also like How to make Colourful Flavoured Coconut at home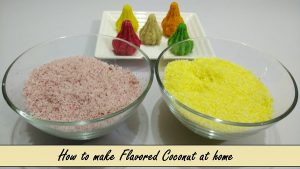 Watch Coconut Dry Fruit Modak Recipe video in Hindi