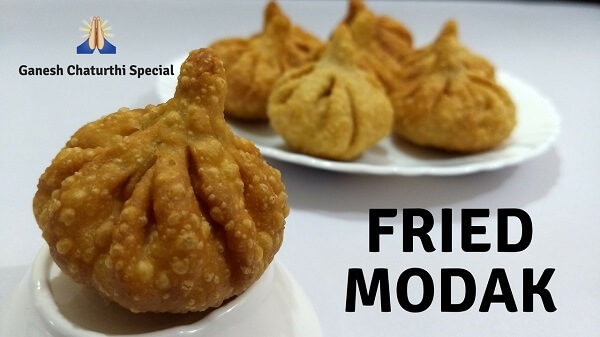 Fried Modak Recipe
Fried Modak Recipe – Ganesh Chaturthi Naivedya/Prasad Recipe. A deep fried modak recipe with a sweet stuffing of Coconut inside and very crispy outside. Traditionally, Modak's outside cover made from rice flour and steamed which is called Ukadiche Modak. Here I am sharing a recipe of modak which is made from wheat flour and deep fried to make outside crispy. Learn how to make tasty and delicious sweet modak, a must during Vinayaka Chaturthi Festival.
Ingredients:
1 cup Wheat Flour
1/2 cup All Purpose Flour (Maida)
1 cup fresh grated Coconut
1/2 cup Desiccated Coconut
1/4 cup mixed grated Dry Fruits
3/4 cup grated Jaggery (Gud)
2 tbsp. Clarified Butter (Ghee)
1/2 tsp. Cardamom Powder (Elaichi)
2 pinch Salt
Clarified Butter/Oil for Deep fry
Instructions:
Preparing the Dough
Take Wheat Flour and All Purpose Flour in a bowl.
Add 2 tbsp. Clarified Butter and Salt, mix well.
Now, add water as required to prepare the medium soft dough.
Cover with lid and keep it aside for 10 – 15 minutes.
Preparing the Stuffing
Dry-roast fresh grated coconut for about 3 to 5 minutes.
Add dry grated coconut and Jaggery.
Mix well and cook on low flame until everything is incorporated well.
Switch off the gas and add grated Dry Fruits & Cardamom Powder.
Mix well and let it cool down to room temperature.
Preparing Modaks
After resting the dough for 15 minutes, take a small ball from the dough and roll thinly into a circle of 3 to 4 inches diameter.
Add stuffing in the middle.
Pinch the edges one by one (see instruction in the video below).
Bring together all the pinched folds to the center & make Modak.
Make sure to seal the modak very well.
Prepare all Modaks in the same way.
Heat Oil or Ghee on a medium flame for deep frying Modaks.
Fry Modaks in hot Ghee until they turn golden brown.
Fried Modaks are ready to be presented as Naivedya/Prasad for Lord Ganesha.
Buy Modak Moulds Online
You might also like Coconut Dry Fruit Modak Recipe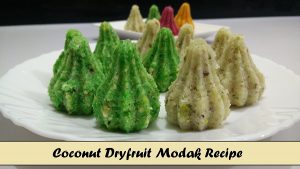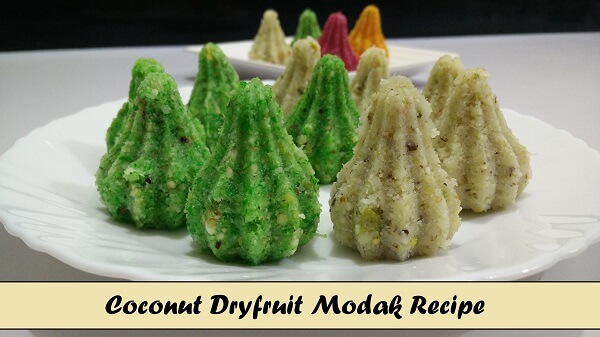 Watch Fried Modak Recipe video in Hindi