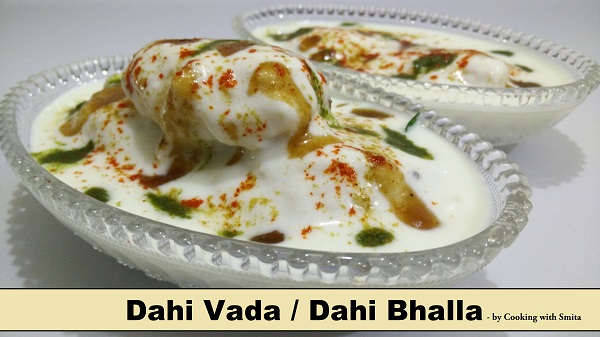 Dahi vada Recipe | Dahi Bhalla
Dahi Vada / Dahi Bhalla is the yummiest and most liked snack in India. Dahi Bhalla dumplings made from split Black Gram (urad dal) and fried, soaked and then topped with a spicy savoury Yoghurt and Chutney.
Ingredients:
2 cup Curd
1 cup (250g) Split Black Gram (Urad Dal)
3 tbsp Powder Sugar
1/2 tsp Soda
2 pinch Asafoetida (Hing)
1/4 tsp Cumin Seeds
1/4 tsp Mustard Seeds
8 – 10 Curry Leaves
Salt to taste
Oil for Deep fry
For serving:
Red Chilli Powder
Roasted Cumin Seeds Powder (Jeera Powder)
Instructions:
Soak split Black Gram in water for about 6 – 8 hours.
Grind in Mixture grinder and make a thick batter. Add very little water while grinding.
Beat the batter for 8 – 10 minutes if using hand or spoon. If using a Hand blender, beat for just 1 – 2 minutes. This will make the batter more light & fluffy.
Add Salt and Soda, mix well.
Heat oil in a deep frying pan over medium flame. Take medium size portion of batter using hand or spoon and gently drop in oil.
Deep fry till they turn golden brown in colour.
In a bowl take slightly warm water and add Salt.
Add fried Vadas in water and soak them for 10 minutes.
To make Dahi for Dahi Vada, add Sugar and salt in Curd and whisk until smooth.
Heat 1 tbsp oil in a Tadka pan, add Mustard Seeds, Cumin Seeds, Curry Leaved and Asafoetida (Hing).
Mix well and pour Tadka over Curd and mix well.
Take each Vada from water, flatten and press between your palms to remove excess water, repeat the process with remaining Vadas.
For serving – Place Vadas in serving plate, pour Curd over it until fully covered.
Add some Green Chutney and Sweet Tamarind Chutney.
Sprinkle Roasted Cumin seeds powder and Red Chilli Powder and serve immediately or refrigerate and serve later.
You might also like Chana Chaat Recipe
Watch Dahi Vada / Dahi Bhalla Recipe video in Hindi