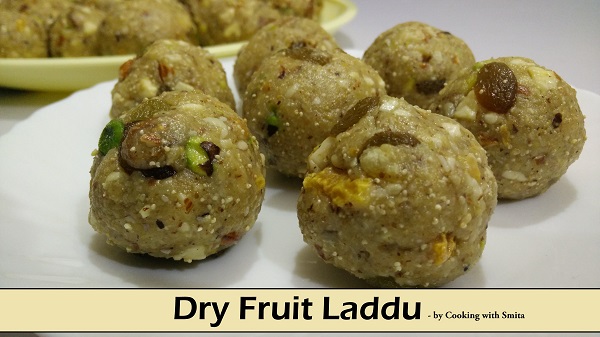 Dry Fruit Laddu
Dry Fruit Laddu is a quick and easy laddoo recipe, especially for the winter season. Dry Fruit Laddus are healthy, delicious and guilt-free snacks. They are good not only for kids but also for adults. These healthy power packed snack does not contain Sugar or any preservative or artificial food colours.
Ingredients:
400g Jaggery
100g Desiccated Coconut
100g Almonds
100g Cashew
100g Raisins
100g Seedless Dry Dates (Kharek)
100g Walnut
50g Dry Figs (Anjeer)
50g Pistachio
50g Hazelnut
25g Cuddapah almond (Charoli)
25g Sunflower Seeds
25g Khus khus
5 tbsp, Clarified Butter (Ghee)
Instructions:
Cut & make small pieces of Dry Dates & Dry Figs
In Food Processor, grind all these ingredients – Almonds, Cashew, Dry Dates, Walnut, Pistachio, Hazelnut, Charoli, & Sunflower Seeds.
Coarsely grind all ingredients. Do not make a fine powder.
Heat Clarified Butter over medium flame in a large pan.
Add Jaggery and stir till it melts completely.
Lower the gas flame and add ground dry fruits, Dry Figs, Raisins, Khuskhus and desiccated coconut.
Mix well all ingredients.
Switch off the gas and let it cool down for 10 minutes.
After 10 minutes roll laddus from the mixture.
Store in air-tight container for 15-20 days or in refrigerator till 4-6 weeks.
Watch Dry Fruit Laddu Recipe video in Hindi