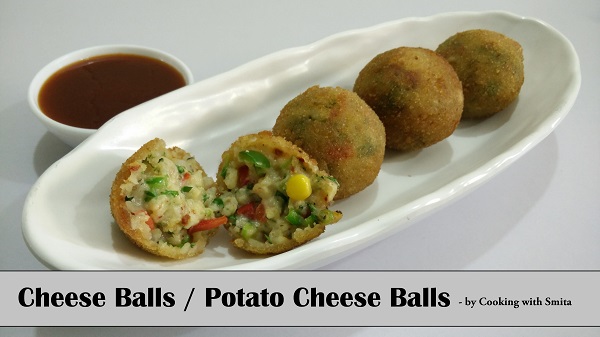 Potato Cheese Balls
Potato Cheese Balls / Cheese Balls is a mouth-melting Snack Dish loved by both, kids and adults. Tiny Potato Balls are made with Boiled Potatoes, grated Cheese, Paneer, Capsicum and Sweet Corn.
Ingredients:
3 medium size boiled mashed Potato
1/2 cup grated Cheese
1/4 cup grated Paneer
2 tbsp Corn flour
2 tbsp fresh Coriander finely chopped
1/4 cup Capsicum finely chopped
2 tbsp Sweet Corn
5-6 tbsp All purpose flour
Breadcrumbs
1/2 tsp Ginger Paste
2 Green Chillies finely chopped
1 tsp Italian Seasoning
1 tsp Chilli Flakes
1 tsp Oregano
Salt to taste
Oil for deep fry
Instructions:
Boil 3 medium size potatoes till they are completely cooked.
When the potatoes become warm, peel them and mash very well in a mixing bowl, allow the potatoes to come to room temperature before you add the remaining ingredients.
Grate cheese and keep aside, in cup measurement, the amount is 1/2 cup tightly packed grated cheese, you can use either cheddar cheese or processed cheese.
Now grate Paneer and keep aside, in cup measurement; the amount is 1/4th
Add all ingredients in a large bowl, Mashed potatoes, grated cheese, grated Paneer, Sweet Corn, chopped Capsicum, finely chopped fresh Coriander, finely chopped green chillies, Chilli flakes, Italian seasoning, Ginger paste, Oregano and pinch of salt.
Mix all ingredients very well.
Add some Corn flour, approx 1 – 2 tbsp and mix well again using your hands, make small balls from the mixture
To make the paste, take All Purpose Flour (Maida) and add a pinch of salt. Make the paste by adding some water.
To Coat all cheese balls, first coat with dry All purpose flour then coat with the paste made from All Purpose Flour (Maida) and finally coat with breadcrumbs.
Heat oil over medium flame in Kadai or Pan for deep frying.
When the oil becomes hot, fry all cheese balls
With a slotted spoon or fork, turn over the balls.
Fry them till they are slightly golden brown and crisp.
Remove them on kitchen paper towels.
Serve cheese balls hot with tomato ketchup or coriander chutney.
You might also like Crunchy Potato Nuggets
Watch Potato Cheese Balls Recipe video in Hindi