Eggless Marble Cake Recipe
Easy to make and moist Eggless Marble Cake Recipe. This cake is rich in taste and buttery with a moist and tender crumb. You may find it difficult to make a Marble Cake, but it's not. Today, I am sharing the easiest method to prepare the basic Marble cake. I have already shared Marble Cake recipe with Egg earlier, click here for the recipe. I got many requests to make Eggless Marble Cake, so here's the Eggless Cake recipe (also known as Zebra Cake) for you guys.
Ingredients:
200g All Purpose Flour (Maida)
150g Powder Sugar
60ml Oil
250ml Buttermilk
1 tsp Baking Powder
1/2 tsp Baking Soda
2 pinch Salt
1 tsp Vanilla Extract
1 tbsp. Cocoa Powder
1 tbsp. All Purpose Flour
Instructions:
Add all the dry ingredients; All Purpose Flour, Powder Sugar, Baking Powder, Baking Soda and Salt.
Mix well all ingredients.
Now add liquid ingredients; Buttermilk, Oil and Vanilla Extract.
Mix well and prepare the Batter, make sure there are no lumps.
Preheat microwave at 180 degree Celsius for 10 minutes.
Divide the batter into two equal portions.
Add 1 tbsp. All-Purpose flour in 1 portion and mix well.
Add 1 tbsp. Cocoa powder in other portion and mix well.
Grease the cake tin/mould and line the butter paper/ parchment paper. I have used a 9-inch x 5-inch cake tin.
Take a spoon and use it to dollop the plain batter & the mixture with Cocoa powder into the tin alternately.
Tap the tin couple of times to ensure there are no air bubbles.
Bake on convection mode at 180 degree Celsius for 30 – 35 minutes until a skewer inserted into the centre comes out clean.
Keep it on a cooling rack and leave to cool-down to room temperature.
After cooling, slice the cake, and you'll see beautiful, evenly marbled patterns similar to as shown in pictures above.
Delicious and moist Eggless Marble Cake is ready to serve.
You might also like Instant Oreo Choco Lava Cake Recipe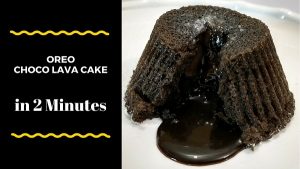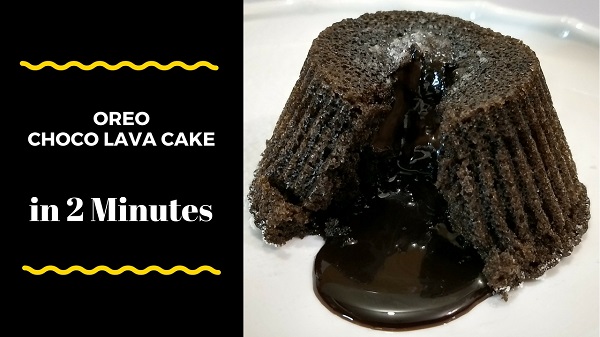 Watch Eggless Marble Cake Recipe video in Hindi