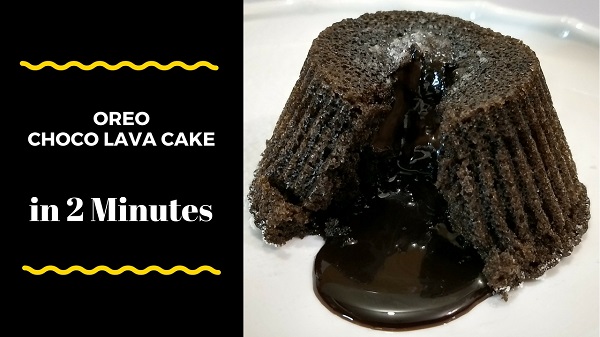 Instant Oreo Choco Lava Cake in 2 minutes
Choco Lava Cake is a dessert that everyone loves. Here I am sharing a recipe with a twist. I have used Oreo Cookies instead of All Purpose Flour. It's an instant & delicious dessert recipe that gets ready in just 2 minutes, just like Mug Cakes. I haven't added Eggs. Hence it's an eggless cake. Learn how to make Instant Oreo Choco Lava Cake at home with this step-by-step guide. You must try this at home, and I am sure everybody will love this lip-smacking Lava Cake.
Ingredients:
Instructions:
Make Chocolate Balls (2cm) from Dark Chocolate compound; you can also use Chocolate Cubes.
Coarsely grind Oreo Cookies (with cream) in a mixer grinder and make powder.
Add Cookie powder in a bowl, add Baking Powder, Baking Soda & Powder Sugar, mix well all the ingredients.
Now, add Vanilla Essence and Milk as required to prepare the Cake batter.
Half fill cupcake moulds with the batter.
Add 1 Chocolate Ball in each mould.
Pour some more batter and cover the Chocolate Balls, do not fill cupcake mould more than 3/4th.
Bake in the microwave at maximum temperature for 90 seconds.
Take out from the Microwave and serve Oreo Choco Lava Cakes.
Notes:
You can prepare the batter in advance & keep in the refrigerator for 2 – 3 days.
Serve Hot.
You might also like Instant Oreo Mug Cake Recipe
Watch Instant Oreo Choco Lava Cake Recipe video