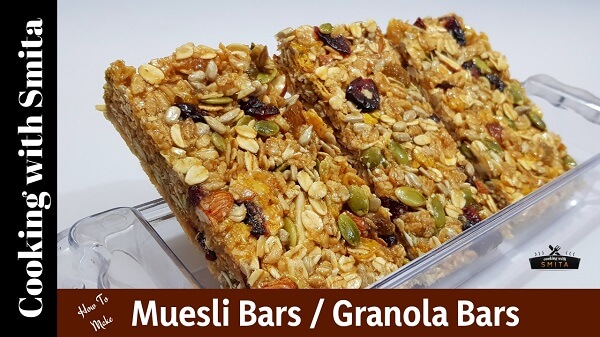 Indian Style Muesli Bar / Granola Bars
Here I'm sharing Indian style Muesli Bars Recipe – a healthy snack option between meals. Also known as Granola Bars, it's a perfect energy bar you can make easily at home. As the name suggests, the main ingredient for this recipe is Muesli. Instead of honey, I've used Jaggery and added dried berries to add a tangy taste to the crunchy Muesli Bar. It's a must try energy bar especially during winter. Follow this step-by-step method to make delicious and chewy Muesli bar at home. Store Granola Bars at room temperature for up to 3 weeks and in the refrigerator for up to 3 months.
Ingredients
3 cup (300g) Muesli
½ cup Sunflower Seeds
½ cup Pumpkin Seeds
½ cup dried mix Berries
¼ cup sliced Almonds
1 & ½ cup (300g) Jaggery
2 tbsp. Clarified Butter / Coconut Oil
Buy Muesli Bars Recipe Ingredients from Amazon
Instructions
Heat Clarified Butter in a Kadai over medium flame.
Add Jaggery, stir continuously and cook until it melts.
Once the Jaggery melts completely, add all the ingredients – Muesli, Sunflower Seeds, Pumpkin Seeds, Dried Berries and Almond.
You can also add Cashew and Pista.
Mix well until all ingredients are incorporated.
Switch off the gas and shift into a tray.
Place a butter paper into the tray and grease with Clarified Butter or Coconut Oil.
Spread evenly and press firmly using a spatula.
Let it cool down to room temperature.
Cut into desired size pieces.
Indian Style Healthy Muesli Bars / Granola Bars are ready to serve.
You might also like 4 Seeds Energy Bar Recipe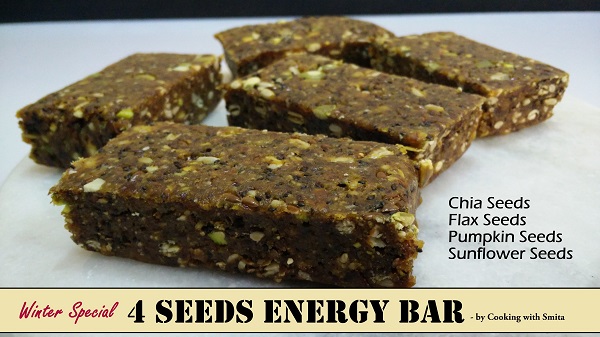 Watch Muesli Bar Recipe video