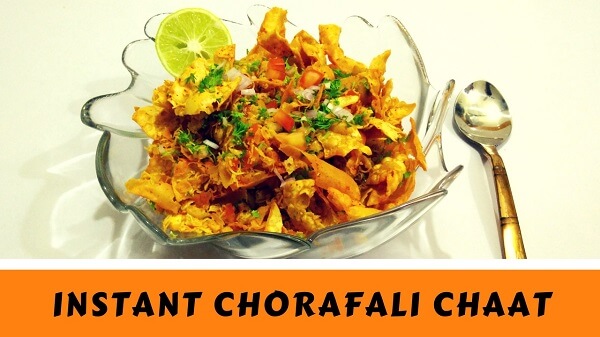 Instant Chorafali Chaat
Instant Chorafali Chaat – an instant chaat recipe made from Diwali Snack "Chorafali". Very Easy to prepare and tasty snack with chopped Tomato, Onion and other ingredients added in Chorafali – a traditional Gujarati Snack. You can measure ingredients as per your taste. Follow this simple recipe and make delicious & unique chaat recipe at home.
Ingredients:
Chorafali
Finely chopped Tomato
Finely chopped Onion
Finely chopped Fresh Coriander
Red Chilli Powder + Rock Salt (Sendha Namak) mixture (ratio 2:1)
Besan Sev
Lemon Juice
Instructions:
Take 2 tbsp Red Chilli Powder and 1 tbsp. Rock Salt, mix well.
Add Chorafali in a large bowl and gently crush them using a spoon.
Now, add all the ingredients one by one – Tomato, Onion, Coriander, Besan Sev and fresh Coriander.
Add Lemon Juice
Sprinkle a mixture of Red Chilli Powder and Rock Salt as per your taste.
Gently mix all the ingredients with a spoon.
Serve Instant Chorafali Chaat immediately.
You might also like Diwali Special Mukhwas Recipe
Watch Instant Chorafali Chaat video recipe