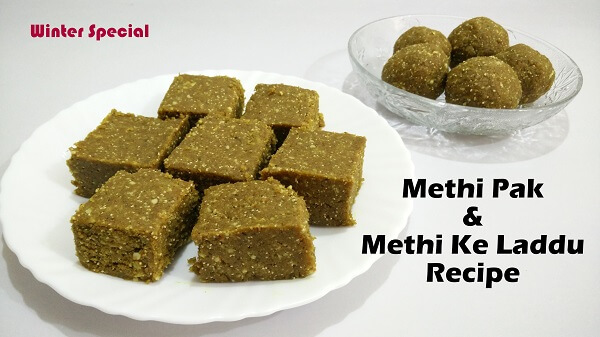 Methi Pak / Methi ke Laddu – Winter Special Recipe
Methi Pak (Fenugreek Barfi)  and Methi Ke Laddoo have health benefits but due to its bitterness people sometimes avoid eating it.  It has many health benefits like help to reduce arthritis pain and strengthen joints during winter time. Follow this step-by-step guide to make this Healthy and Must-have dish this winter.
Ingredients:
125g Fenugreek Powder (Methi Powder)
75g Chickpea Flour (Besan)
25g Dry Ginger Powder
25g Batrisu Powder (Katlu)
25g Peepramul Powder
25g Dry Grated Coconut
25g Edible Gum / Dink
25g Poppy Seeds (Khas Khas)
50g Almond
250g Clarified Butter (Ghee)
200g Jaggery
Instructions:
Dry roast Poppy Seeds for 2 minutes on low flame and keep aside.
Dry roast Almonds for 2 minutes on low flame.
Now add 2 tbsp. Clarified Butter in a kadhai, heat on low flame.
Add Edible Gum and fry until they puff up.
Add 4 – 5 tbsp. Ghee in same kadhai, add Besan.
Continuously stir and cook on low flame until it changes colour and leaves nice aroma.
Grind Almonds and Fried Edible Gum in mixer separately and keep aside.
Take a large mixing bowl, add Dry ingredients – Methi Powder, Dry Ginger Powder, Peepramul Powder, Katlu Powder, Almond Powder, Poppy Seeds, grated Coconut and Edible Gum.
Mix well all the ingredients.
Heat remaining Clarified butter in a large kadhai over low to medium flame.
Add Jaggery, stir until it melts completely.
Lower the flame, add cooked Besan & mixture of dry ingredients, mix well.
Switch off the gas and pour the mixture into a greased plate.
Spread evenly and press gently with a flat spoon.
After 10 minutes, make desired size pieces using a knife and let it cool down for 30 minutes.
You can also make Laddus from this mixture.
Apply some Ghee on your palm, take some mixture and roll into Laddus.
Let them cool down completely.
Methi Pak and Methi Ke Laddu are ready to eat.
It stays good for 4 – 5 weeks.
You might also like Adadiya Pak Recipe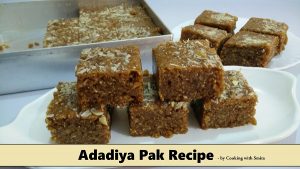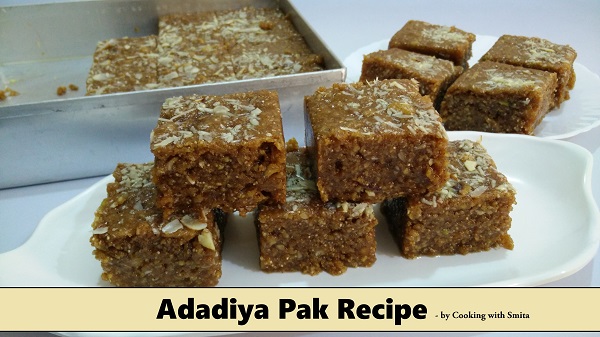 Watch Methi Pak / Fenugreek Barfi Recipe video in Hindi