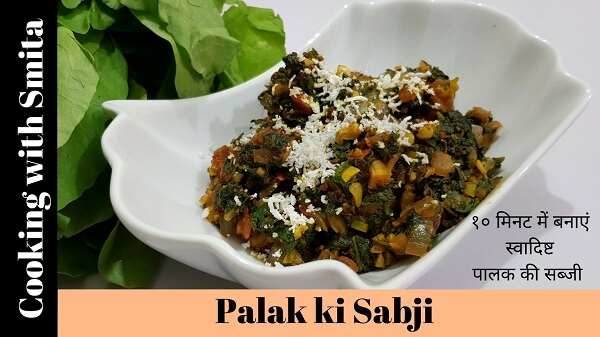 Healthy & Tasty Instant Palak ki Sabji Recipe
Instant Palak ki Sabji – A basic sabzi recipe made with Spinach or Palak leaves and is a simple and a quick recipe for beginners that gets ready in just 10 minutes. Palak Sabji served with Roti, Naan or Phulka. Quick to make and Healthy to eat is the perfect caption for Palak Ki Subzi! It is a tasty vegetable dish, and it is full of nutrients too. Palak Ki Subzi aka Spinach stir-fry makes an amazing side assortment with any meal. When you have less time and are in no mood to make any side dish along with Roti or Rice, then make this Instant Spinach Stir-fry. Follow step-by-step instructions to make Palak ki Sabji at home.
Ingredients:
3 cup chopped Spinach / Palak
1 medium size Onion finely chopped
1 medium size Tomato finely chopped
1 tbsp. Garlic finely chopped
2 Green Chillis finely chopped
1 tsp. Cumin Seeds
2 tsp. Coriander & Cumin Powder
1 tsp. Red Chilli Powder
½ tsp. Turmeric Powder
½ tsp Sugar
2 pinch Asafoetida
1 tsp. Oil
Salt to taste
Grated Paneer for garnishing
Instructions:
Chop off the stems on the spinach and wash under running water.
Drain thoroughly and coarsely chop Spinach leaves and keep aside.
Heat 1 tsp. Oil in a pan over medium flame.
Add Cumin seeds and saute for 30 seconds.
Add Asafoetida, Garlic and Green Chillies, saute for another 1 minute.
Now, add Onion and saute for 2 minutes.
Add Tomatoes, mix well and saute for 1 minute.
Add Turmeric Powder, mix well and add chopped Palak / Spinach.
Mix well and add all spices – Coriander-Cumin Powder, Red Chilli Powder, Salt and Sugar (optional).
Stir well to mix all ingredients and cook for 2 minutes.
Switch off the gas after 2 minutes.
Garnish with grated Paneer before serving.
Serve hot Palak ki Sabji with Roti, Naan or Paratha.
You might also like Sev Tamatar Sabzi Recipe
Watch Instant Palak ki Sabji Recipe video in Hindi