Sev Tamatar Sabzi Recipe | Sev Tameta nu Shaak
Spicy and delicious Sev Tamatar Sabzi – a famous Gujarati dish prepared with Sev (farsan available in most Gujarati families), Tomatoes and spices also known as "Sev Tameta nu Shaak". Sev Tomato Sabzji is one of the dishes main dish in the menu of all the highway dhabas & restaurants in Gujarat & Rajasthan. In this recipe, you can use Sev of your choice, like Ratlami Sev, Spicy Sev or Garlic Sev.
Learn how to make this Sev Tameta Sabzi at home with this step-by-step guide.
Ingredients:
1 cup Sev
Three medium size Tomatoes roughly chopped
Two tbsp. Jaggery/Sugar
finely chopped Fresh Coriander
Two tbsp. Oil
One tbsp. Finely chopped Garlic
One tsp. Cumin Seeds
1/2 tsp Mustard Seeds
Two tsp. Dhana Jeera Powder
One tsp. Kashmiri Chilli Powder
One tsp. Red Chilli Powder
1/2 tsp. Turmeric Powder
1/2 tsp. Garam Masala
Salt to taste
Instructions:
Heat oil in a pan over medium flame.
Add Mustard seeds, Cumin Seeds & Garlic, sauté for 30 seconds.
Add chopped Tomatoes and half cup water, stir well.
Now add all the spices – Kashmiri Chilli Powder, Red Chilli Powder, Dhana Jeera Masala, Turmeric Powder and Salt.
Also, add Jaggery and mix well. You can add Sugar instead of Jaggery.
Cover with lid and cook for 4 – 5 minutes over medium heat.
After 5 minutes, switch off the gas.
Add Garam Masala and Fresh Coriander, mix well.
Finally, add Sev and mix well.
Pour the Sabzi in the serving bowl and sprinkle Sev over the sabzi, garnish with fresh Coriander.
Serve Sev Tamatar Sabzi hot with Roti, Chapati or Paratha.
You might also like Mix Vegetable Sabzi | Gujarati Shaak Recipe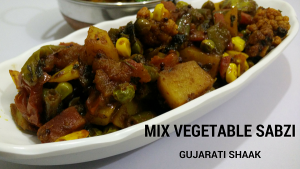 Watch Sev Tamatar Sabzi Recipe video in Hindi