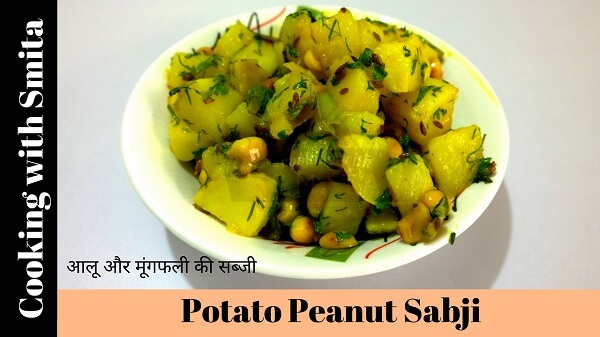 Potato Peanut Sabji Recipe
Instant and easy recipe for Potato Peanut Sabji aka Aloo ki Sukhi Sabji, a favourite dish in Gujarati families. Prepared with just boiled Potato & Roasted Peanuts, you can eat this sabzi during Upvas / Fasting days with Farali Roti. Potato Peanut Sabji best served with Roti, Chapati, Thepla or Phulka. Learn how to make this delicious Aloo ki Sabzi at home with this step-by-step recipe.
Ingredients:
3 Medium size Boiled Potato cut into cubes
1/2 cup Roasted Peanuts
3 Green Chilli
Some Curry Leaves
Salt to taste
1 tsp. Sugar
1 tsp. Lemon Juice
2 tbsp. Oil
1/2 tsp. Turmeric Powder
1 tsp. Cumin Seeds
Chopped Coriander (optional)
Instructions:
Take boiled Potato cubes in a bowl, add Lemon Juice, Sugar, Salt and keep aside.
Heat oil in a pan over medium flame.
Crackle Cumin seeds in hot oil.
Add chopped green chillies, Curry Leaves and Roasted Peanuts.
Roast for 2 – 3 minutes.
Add Turmeric Powder and mix well.
Lower the flame and add Potatoes, mix well.
Cook for 2 minutes.
Switch off the Gas.
Sprinkle chopped fresh Coriander (optional) and Serve Potato Peanut Sabji with Roti or Thepla.
Watch Potato Peanut Sabji Recipe video in Hindi
You might also like Spicy Potato Curry / Aloo Sabzi (Dhaba Style) Recipe