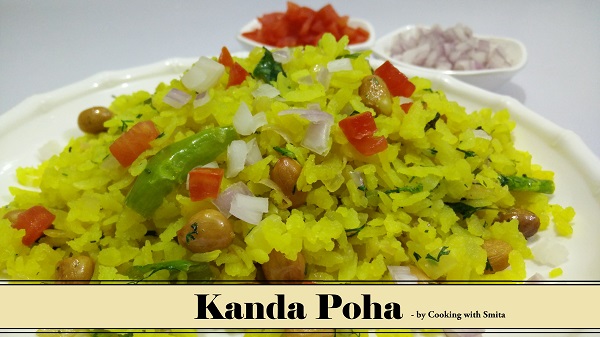 Kanda Poha / Savory Flattened Rice
Kanda Poha / Savory Flattened Rice is one of the most popular healthy breakfast/snack recipe from Maharashtra made with Poha/flattened rice and Onions. There are many recipes for making Poha, either with Potato or Onions or both. I have made this Poha using Onions. Learn how to make this healthy breakfast Kanda Poha at home.
Ingredients:
2 cup thick Poha (flattened rice)
2 medium size Onion finely chopped
2 tbsp. Peanuts (mungphali)
Fresh Coriander finely chopped
10-15 Curry Leaves
2 Green Chilli sliced
1 tsp. Sugar
1/2 tsp. Turmeric Powder
Salt to taste
4 tbsp Oil
Lemon Juice
– For Garnishing
finely chopped Onion
finely chopped Tomato
Instructions:
Wash Poha in a colander and set it aside for 10 minutes and let the water drain out completely. (Do NOT soak Poha in water)
Take a pan/wok and heat oil over medium flame.
Add Green chillies and Curry leaves in hot oil and sauté for about 30 seconds.
Add Peanuts and sauté for about 1 & ½ minute.
Now add chopped Onion and sauté for about 2 minutes.
After 2 minutes add Turmeric Powder and mix well.
Add washed Poha, Lemon Juice, Salt, Sugar and mix well all ingredients.
Lower the flame, cover with a lid and cook for 2 minutes.
Now add fresh coriander and mix well.
Switch off the gas and serve.
Serve Kanda Poha / Savory Flattened Rice with chopped Onion & Tomato.
You might also like Veg Mayonnaise Sandwich Recipe
Watch Kanda Poha / Savory Flattened Rice Recipe video in Hindi