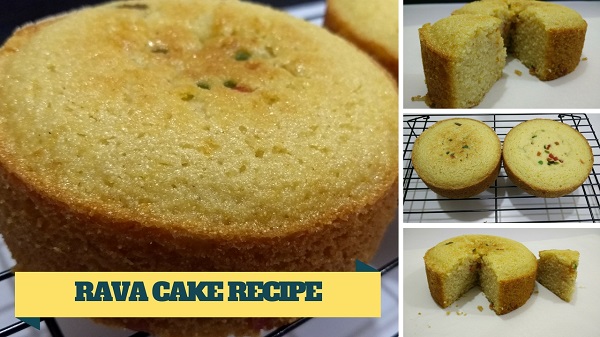 Rava Cake (Semolina Cake) Recipe
Today I am sharing a simple and healthy Rava Cake (Semolina Cake) Recipe. This eggless & foolproof recipe made from Rava (Semolina)/ Suji is very easy to make. Here I am sharing two methods to make this Suji Cake using Microwave and on Gas. In this recipe, you don't even need Pressure Cooker. I have made it on Kadai, and it turned out exactly similar to the cake texture and taste achieved in the microwave. Follow this step by step recipe to make this Rava Cake at home.
Ingredients:
2 cup Semolina (Rava / Suji)
1 & 1/4 cup Powder Sugar
1/2 cup Curd
3/4 cup Milk
1 tsp. Vanilla Extract
1/4 tsp. Salt
1/2 tsp. Baking Soda
1 tsp. Baking Powder
1/3 cup Vegetable Oil
2 – 3 tbsp. Tutti Frutti
Instructions:
Add dry ingredients in a large bowl – Semolina, Powder Sugar, Baking Soda, Baking Powder, Salt, mix well all ingredients.
Now add liquid ingredients – Milk, Vegetable Oil and Vanilla Extract.
Mix well and prepare the batter, cover with a lid and keep it aside for 15 minutes.
You can make this cake in the microwave as well as in Kadai on gas. I have made two parts of batter and made two cakes, one in the microwave and one in Kadai.
Grease both cake tin (6-inch each) with butter and keep aside.
Preheat microwave at 180 degree Celsius for 10 minutes.
Heat a deep bottom Kadai with the lid on the gas over low heat for about 10 minutes.
Keep a steel ring at the bottom to maintain the distance between the bottom of the Kadai and baking tin.
Add Curd in the batter after 15 minutes, mix well.
Divide into two parts and immediately pour the batter into the baking tin.
Bake in the microwave at 180 degree Celsius for 30 – 35 minutes.
Place steel cake pan in Kadai, cover with a lid and cook for 30 – 35 minutes over low flame.
After 30 – 35 minutes, check the cake with the help of a toothpick.
Place both tins on a cooling rack for 10 – 15 minutes (do not remove cake from the tin).
After 15 minutes, remove the cake from the baking tin and place it on a cooling rack until room temperature.
Eggless Rava Cake is ready to serve.
You might also like Eggless Chocolate Cake Recipe
Watch Eggless Rava Cake (Semolina Cake) Recipe video in Hindi