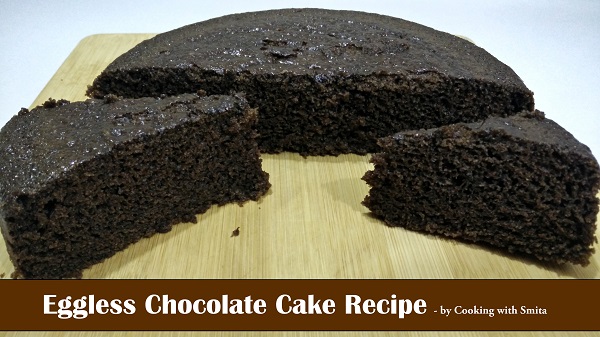 Eggless Chocolate Cake
This is very simple Eggless Chocolate Cake recipe made without Condensed Milk. It is very moist, soft and tender, a must try, simple to do yet yummy cake. Read & follow this recipe of how to make Eggless Chocolate Cake at home.
Ingredients:
170g (1 & 1/2 Cup) All Purpose Flour
190g (1 & 1/4 Cup) Powder Sugar
75g (5 tbsp) Melted Butter
15g (3 tbsp) Cocoa Powder
1 cup Fresh Buttermilk
1 tsp Baking Powder
1 tsp Baking Soda
1/2 tsp Instant Coffee Powder
2 pinch Salt
1 tsp Vanilla Essence
Instructions:
Sift all dry ingredients – All Purpose Flour, Powder Sugar, Cocoa Powder, Baking Soda, Baking Powder, Instant Coffee Powder and Salt.
Mix well all ingredients using whisk or spoon.
Preheat microwave at 180 degree Celsius.
Now add liquid ingredients in Dry ingredient's mixture – Melted Butter, Buttermilk and Vanilla Essence.
Mix well all ingredients to prepare Cake Batter. Make sure there are no lumps in the batter.
Grease and dust baking tin and shift batter in it.
Bake for 30 – 35 minutes at 180 degree Celsius on convection mode.
Remove from microwave and let it cool down to room temperature.
Cut into desired size pieces and enjoy Eggless Chocolate Cake.
You might also like Eggless Tutti Frutti Cake
Watch Eggless Chocolate Cake Recipe video in Hindi