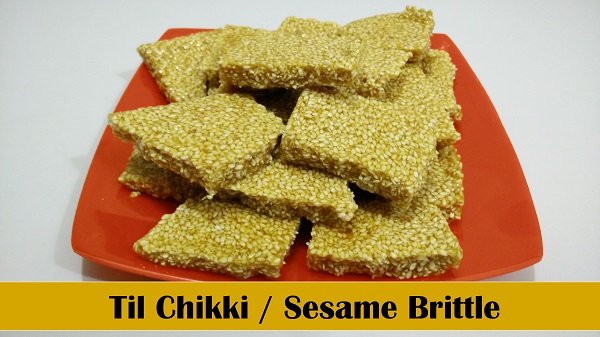 Til Chikki (Sesame Brittle)
Makar Sankranti Special – Til Chikki or Sesame Brittle (Winter Special) is made from roasted Til / Sesame Seeds with either Sugar or Jaggery. In this recipe, I will show you how to make Til Chikki with Sugar. As the festival of kite known as Makar Sankranti / Uttarayan is nearing, in almost all Gujarati home they start making delicious sweet known as Chikki.
Ingredients:
1 cup (150g) Til / Sesame Seeds
1 cup (200g) Sugar
2 tbsp Clarified Butter (Ghee)
Instructions:
Stir constantly and dry roast Sesame Seeds for 3 – 4 minutes over medium – low heat.
Switch off the gas and let it cool down to room temperature.
Heat 1 tbsp Clarified butter over medium flame in a wok.
Add Sugar, stir constantly and heat over medium – low flame till Sugar melts completely.
Add Sesame Seeds, mix well and switch off the gas.
Grease a flat bottom plate with clarified butter to set the Chikki.
Shift mixture of Til & Sugar in greased plate and spread evenly.
Let it cool down for 10 – 15 minutes.
Remove from plate and cut into desired size pieces.
Enjoy Til Chikki / Sesame Brittle.
Store in air-tight container.
You might also like Peanut Chikki (Peanut Brittle) Recipe
Watch Til Chikki (Sesame Brittle) Recipe video in Hindi