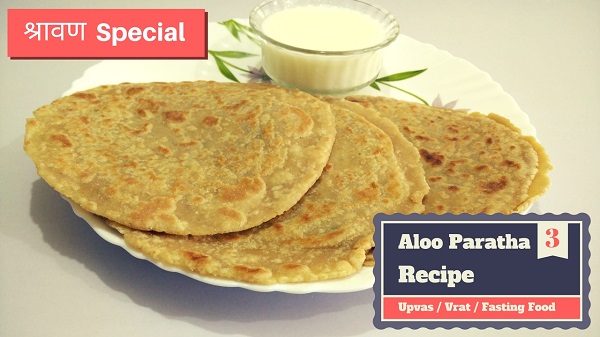 Upvas ka Aloo Paratha – Farali Aloo Paratha
Upvas ka Aloo Paratha / Farali Aloo Paratha – A healthy & gluten free fasting food recipe made from mix flour of Rajgira (Amaranth grain) & Moraiyo (Barnyard millet). Rajgira Parathas made during Fasting or Vrat days. Rajgira & Moraiyo, both are commonly used ingredients for religious fasting days like Shravan, Navratri, etc.
Ingredients:
2 cup Rajgira (Amaranth grain) & Moraiyo aka Sama ke Chawal (Barnyard Millet) Flour
3 boiled, mashed Potatoes
Finely Chopped Fresh Coriander
2 tbsp. Ginger and Green Chilli Paste
Salt to taste
1 tsp. Cumin Powder
1 tbsp. Lemon Juice
1 tbsp. Oil
Clarified Butter (Ghee)
Instructions:
Mix 1kg Rajgira & 150g Sama ke Chawal (Barnyard Millet) & grind to a fine flour just like Wheat Flour. Use 2 cups of this flour for the recipe.
Take Flour in a large bowl, add Salt and 2 tbsp. Ghee/Oil.
Add water as required and prepare the dough and keep it aside.
– Stuffing for Farali Aloo Paratha
Heat Oil in a pan.
When Oil is hot, add Cumin Powder, Ginger & Green Chilli Paste and sauté for 1 minute.
Now, add mashed Potatoes, Coriander, Lemon Juice & Salt.
Mix well all ingredients.
Switch off the gas after mixing; stuffing is ready.
– Preparing Aloo Paratha
Take a small dough ball, dust with flour and roll into circular Roti using rolling pin, prepare 2 Rotis for 1 Paratha.
Spread Potato stuffing on top of 1 Roti.
Place second roti over the filling and press gently and seal the corners.
Dust with some flour and roll again gently so that both the layers merge well.
Heat Tawa and cook the Paratha on medium flame.
Flip over the paratha when partially cooked on the bottom.
Apply some Ghee and spread evenly.
Cook Paratha till you see golden brown spots on both the sides.
Repeat the process and cook all the Parathas.
Serve Upvas ka Aloo Paratha hot with Curd.
You might also like Farali Dosa / Upvas ka Dosa Recipe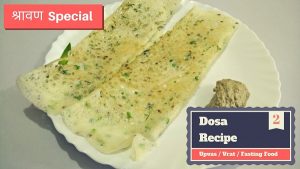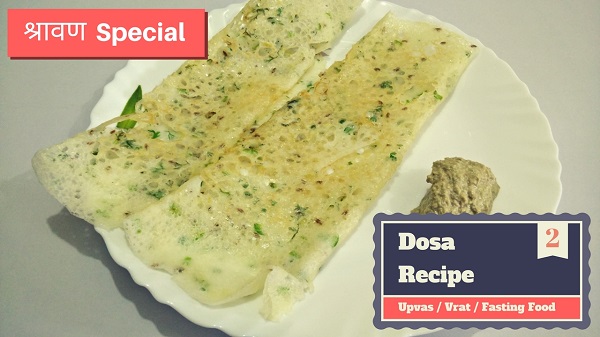 Watch Farali Aloo Paratha / Upvas ka Aloo Paratha Recipe video in Hindi