Vada Pav – Batata Vada Recipe
Vada Pav is the most popular street food of Mumbai and all over Maharashtra. It is also known as No.1 Street Food of India. Deep fried spicy Potato Patty (Batata Vada) served in Bread Bun (Ladi Pav) with chutney and Onions. Learn how to make Mumbai-style Batata Vada / Vada Pav at home with this step-by-step recipe.
Ingredients:
4 medium size Potato Boiled and smashed
2 tbsp. Green Chilli + Ginger + Garlic paste
some Green Coriander chopped
some Curry leaves
1 tbsp. Oil
1/4 tsp. Turmeric Powder
2 pinch Soda
Salt to taste
2 cup Besan (Chickpea flour)
Oil for deep fry
Instructions:
Boil 4 medium size Potatoes till completely cooked. Peel and mash them with the help of Masher or Fork.
Heat Oil in a pan over the low flame.
Add Curry leaves and Chilli+Ginger+Garlic paste, sauté for 1 minute.
Now add fresh Coriander, Turmeric Powder and mix well.
Then, add boiled, mashed Potatoes and Salt, mix well all the ingredients and cook for about 1 minute.
Switch off the gas and let the Potato mixture cool down.
To prepare batter, add Turmeric Powder, Salt and Soda in the Besan, mix well.
Add water as required and prepare the batter.
Prepare small to medium size balls from the Potato mixture.
Dip Potato balls in the batter, coat evenly with the batter.
Gently drop these batter coated Potato Balls in medium hot Oil.
Deep fry till they turn golden evenly.
Remove Batata Vadas from the Oil and drain on kitchen paper towel/absorbent paper.
Serve hot with Pav, Chutney and Onions.
Click here for Homemade Eggless Ladi Pav Recipe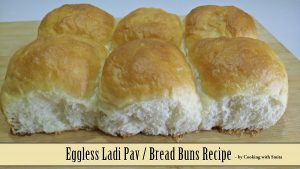 Watch Vada Pav / Batata Vada Recipe video in Hindi