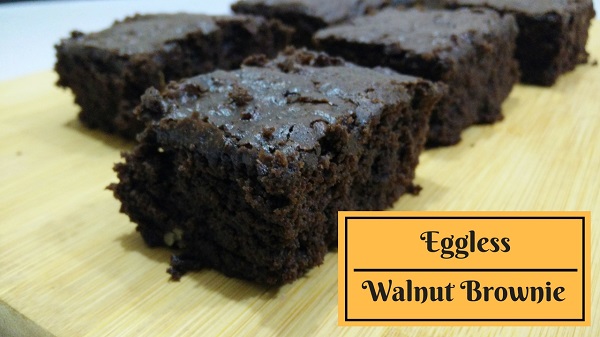 Eggless Chocolate Walnut Brownie Recipe
Eggless Chocolate Walnut Brownie is a delicious baked dessert which has a lovely chocolate flavour and great crunch from the walnuts. Just the right amount of softness, melt in your mouth brownies with a big crunch from the nuts.  It is not chewy, but soft; moist and cake like Brownie. Chocolate Brownies are often accompanied by milk, served warm with ice cream, topped with whipped cream, or sprinkled with powdered sugar. If you are looking for a perfect recipe to make Eggless Chocolate Walnut Brownie, here's the one.
Ingredients:
150g All Purpose Flour (1 cup)
140g Powder Sugar (1 Cup)
160g Dark Chocolate
100g Butter
40g Walnut
25g Cocoa Powder
1 tsp. Baking Powder
1 tsp. Vanilla Essence
1/4 cup Curd
1/2 cup Milk
Instructions:
Melt Dark Chocolate and Butter in the microwave, stir well and make sure there are no chocolate pieces left.
Add Powder Sugar and mix well until Sugar dissolves completely.
Now add Milk and stir well.
Sieve dry ingredients (All Purpose Flour, Cocoa Powder & Baking Soda) using a strainer.
Add dry ingredients into liquid, mix well and prepare the batter for Brownie.
Preheat microwave at 160 degree Celsius for 10 minutes.
Add Curd and Vanilla Essence into the batter and mix well.
Add Walnuts and gently mix.
Cover inner side of the baking tin with butter paper so that it can be removed easily after baking.
Shift the batter into the baking tin.
Bake the Brownie Batter on convection mode at 160 degree Celsius for 30 – 35 minutes.
Remove from microwave and let it cool down in the tin for 10 – 15 minutes.
Cut into desired size pieces and serve Chocolate Walnut Brownie with Ice Cream or just sprinkle with powder sugar.
You might also like Instant Brownie (Eggless) Recipe
Watch Eggless Chocolate Walnut Brownie Recipe video in Hindi