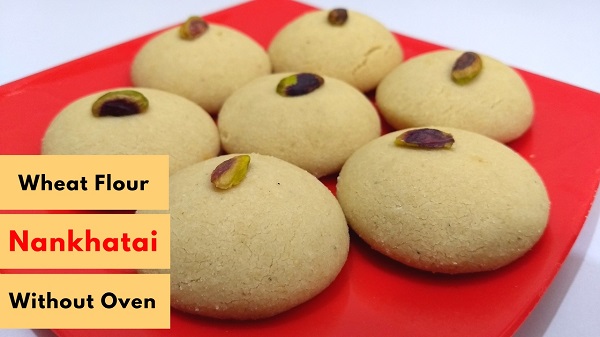 Wheat Flour Nankhatai without oven
Nankhatai is an authentic Indian Sweet Cookies originated in Surat, Gujarat. This Eggless Indian Cookie is crunchy and crumbly with the aroma of Cardamom powder. Many of my readers and subscribers on my YouTube Channel requested me for the recipe of Nankhatai without a microwave. So here I am sharing Wheat Flour Nankhatai without oven recipe on the gas stove.  You can also make it in the microwave using same dough.
Ingredients:
2 cup (250g) Wheat Flour
1 & 1/4 cup (200g) Powder Sugar
1 cup (250ml) Clarified Butter (Ghee)
1 tsp. Green Cardamom Powder
1/2 tsp. Baking Powder
1 tbsp. Curd
Pistachio for garnishing
Instructions:
Add Ghee & Powder sugar in a bowl & whisk using a hand blender for about 1 minute.
Now add Curd and whisk for about 30 seconds more.
Add Wheat flour in the mixture in small portions and mix well to prepare the dough for Nankhatai.
Finally, add Cardamom Powder and Baking powder, mix well.
Make sure the dough holds the shape of balls at this stage, you can add 1 to 2 tbsp. Additional Ghee if required.
Heat a wok on low flame, keep a stand in a wok to maintain a gap between Nankhatai plate and the bottom of the wok. Cover with lid and preheat for 10 minutes.
Meanwhile, prepare medium size Nankhatais from the dough and keep on a plate.
Garnish with sliced Pistachio, 1 on each Nankhatai.
Add the plate in preheated wok, cover with a lid and cook for 15 – 20 minutes on low flame.
Switch off the gas and remove the plate from the wok and let it cool down to room temperature.
You can also bake the same in microwave 180 degree Celsius for 15 minutes.
Serve or store in airtight container, consume within 15 – 20 days.
You might also like Til Peanut & Dry Fruit Barfi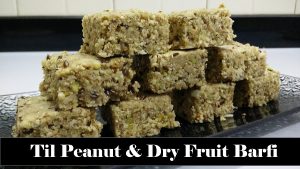 Watch Wheat Flour Nankhatai without oven – Recipe video in Hindi